CADS Calgary playing a key role in the growth of para alpine sports
Mar 23, 2022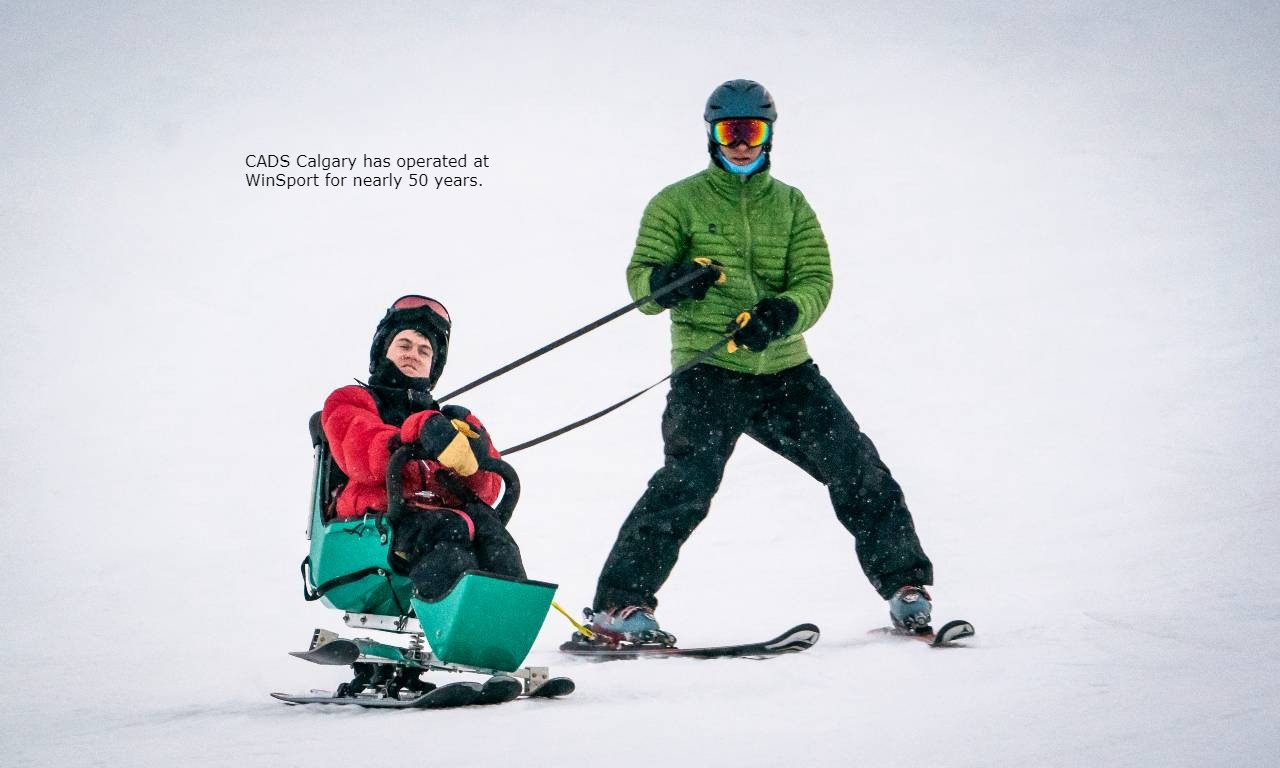 The world's top para athletes recently wrapped up the Beijing 2022 Paralympic Games, but these Games also gave the grassroots level something to be excited about.
Many of the athletes that competed in Beijing got their start in sport at local clubs that have supported their disability and worked with them to develop their skills.
One such club is CADS Calgary, a volunteer organization that falls under the umbrella of the Canadian Adaptive Snowsports Association. The organization, which empowers people with disabilities through participation in adaptive sports, has operated ski and snowboard lessons at WinSport's Canada Olympic Park since 1974 – back when the hill was still known as Paskapoo.
CADS Calgary has played a key role in the growth of para alpine sports, from recreational and a small race program to Para World Cup races and Paralympic Games.
"It makes me very proud that we have been able to part of the program that has taken it from what it was to what it is for people who want to ski race," says Tony Crook, who has been with CADS Calgary since its inception and now heads the technical and volunteer committee. "That's what I find is fantastic is that we have been part of that journey, from there to there. There's been quite a number of people to come through the Calgary program to become Canadian and world champions."
Alana Ramsay, who learned to ski with CADS Calgary at the age of six, competed in her third Paralympic Games in Beijing, winning a pair of bronze medals. (For more on Alana Ramsay, click here) She credits CADS for her sparking her love for skiing and ski racing.
Among the CADS Calgary alumni are:
Karolina Wisniewski – A three-time Paralympian who was the assistant chef de mission of the Canadian team for the Beijing 2022 Paralympic Winter Games;
Stacy Kohut – Captured gold at the 1994 Lillehammer Paralympics and three silver at the 1998 Nagano Paralympics;
Lauren Woolstencroft – A three-time Paralympian, and a five-time gold medallist at the 2010 Vancouver Paralympics.
The club, however, is less about high performance than it is about recreation and providing opportunities to ski and snowboard for those with disabilities. The competitive success is a bonus.
This year, there are about 100 students with 200 volunteers participating in the program, which operates several Sunday evenings at Canada Olympic Park throughout the winter. The final CADS night of the 2021-22 season was held earlier this month.
"One of the main reasons the Calgary program has been so successful over the years, is being able to run out of WinSport, we can run our program in the evenings," says Laura Lee Crook, CADS Calgary's ski school director. "If you have a family that wants to get their child into a skiing program, but maybe the rest of the family doesn't ski, you don't have to give up a weekend to go and do it. And most other programs don't have the proximity to a facility like this. We are lucky in that manner, and we are unique in that manner."
Back in 1974, Tony began teaching with CADS when his ex-wife's sister, who was blind, wanted to learn to ski. Since then, he has loved teaching with the program so much, he hasn't wanted to leave. It's the same story for Laura Lee, who was teaching at the Paskapoo ski school more than 40 years ago when she was recruited to volunteer.
If you haven't figured it out yet, the two are now married after meeting through CADS.
"The biggest thing is the family. It's a family group," says Tony. "A lot of our instructors have met their spouses through our program. It's a great peer group, everyone knows everyone, we've all been around for years. A lot of people have become friends through teaching skiing, not just instructors. But people we've taught to ski, we've gotten to know and have stayed friends with."
The Calgary program is one of about 50 across Canada and provides the perfect opportunity for anyone with a disability to learn snow sports.
"We will try to teach anyone with any disability that comes out," says Laura Lee. "The only thing we restrict by is age. We won't take anyone younger than six, just because we run it in the evening, and they are asleep. It's just great to get everyone out."
It's also a great learning experience for the instructors, who have to evolve their teaching style to meet the needs of the individual.
"I found it very interesting how you teach people to ski, how you adapt what we know of through the Canadian Ski Instructors' Alliance and how you adapt those theories to teaching somebody with a disability," says Tony. "It's not black and white like it is with a ski school where you are coming out to learn to ski and snowboard. Teaching people with an adaptive requirement, it's how do we change it to do what we need to do. You might not be able to do a turn conventionally, so what do we do to make it so you can turn."
WinSport has always prided itself on being one of Canada's premier locations to learn to ski and snowboard. With CADS Calgary having the expertise, the long relationship that is closing in on 50 years has been mutually beneficial. Some WinSport staff even volunteer to work on CADS nights because they love to be involved.
"WinSport has always been great supporters, ever since Day 1," says Tony. "This hill is great to run a ski school like ours because you can see everything that is going on. If people are having problems, you can give them help if they need it and you can do it quickly. If you are on a bigger mountain and the instructor isn't sure what to do, they are stuck for an hour coming down. Here, in 10 minutes they'll be back. As far as a learn-to program, the size of this hill is fantastic."
Thanks to COVID, registration numbers are down this year by about one-third from pre-pandemic levels, but the hope and the expectation is that the numbers will rise again next year.
If you are anyone you know of is interested in learning more about CADS Calgary, visit cadscalgary.ca or email [email protected]