Volunteering brings out the best in Jessica Jones
May 9, 2022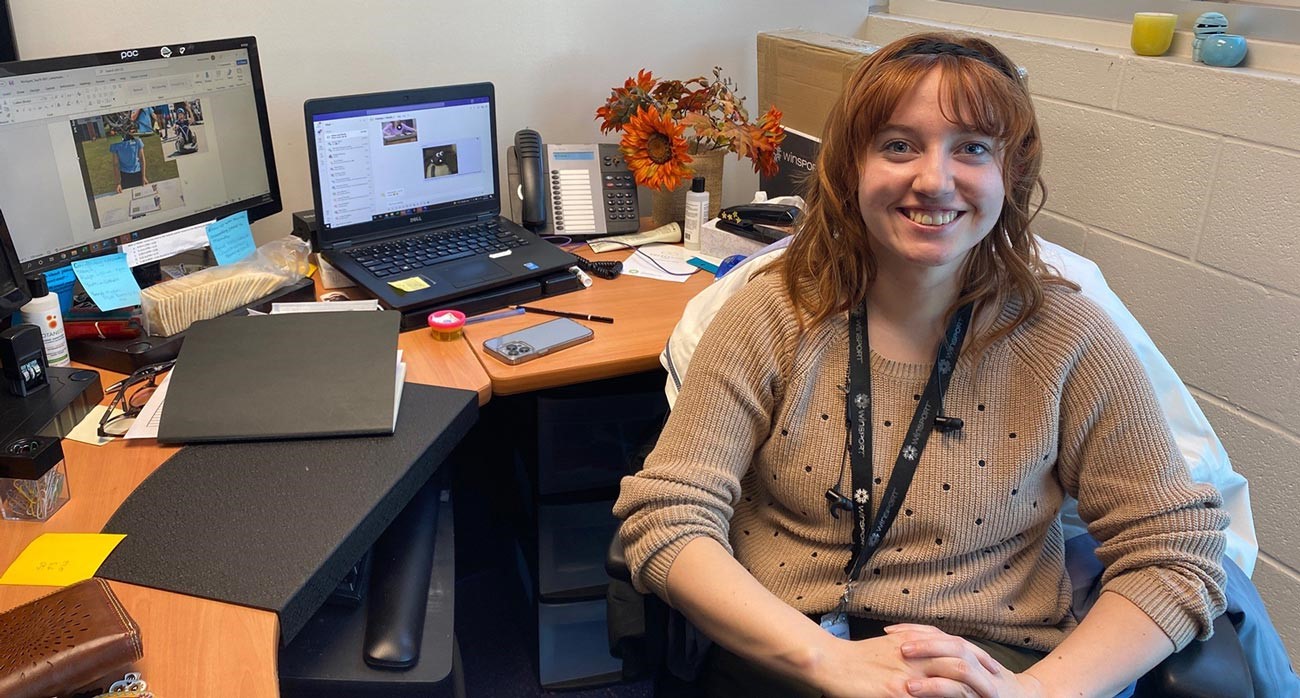 From the time she was a teenager, Jessica Jones knew that volunteering was in her blood.
So, it was only natural that she would end up working for WinSport – the organization where she first got her feet wet volunteering.
"I was very fortunate. Our parents encouraged us to be active in the community," says Jessica, who took on WinSport's volunteer coordinator position in February 2019. "They instilled in us that through volunteering you still get work experience. We were also in a fortunate enough position that we could give our time regularly. They said, 'go get the experience and help out the community'. I took that to heart. When I was looking for my first volunteer role, one of my friends had been volunteering at WinSport and said he was having a great time, so I decided too as well."
She was 14 years old when she first joined WinSport as a volunteer during summer camp and was a member of the leadership in-training program. She moved on to become a junior instructor the following winter.
In high school, her passion grew stronger, as she participated in her school's youth volunteer course, which allowed her to help at various events around the city, along with specialized opportunities, such as making sandwiches for the Mustard Seed.
"When I got my first job at the end of high school, the only thing that was on my resume was volunteering," says Jessica. "I had only done volunteering up until that point, but you still have that experience from going and taking opportunities through volunteering. I was handling cash because of fundraising events, and I was interacting with guests and customers, so that experience translated into my first paid job."
While attending the University of Calgary, where she majored in international business, she made three trips to Honduras as part of a volunteer club. The first visit was to help the community build business plans, then make suggestions to the community on how they sustainably implement the business with the resources they have.
For the next two years, she led teams of engineering brigades, where they worked with local Hondurans on engineering surveys and mapped out where piping would go, so they could build water systems in the community. Her experience in leading the teams, where she also oversaw finding the volunteers, proved to guide her in her post-university path.
"I liked recruiting volunteers and having a cause to support that went beyond being just wanting to be in the corporate world," she says. "In university, I decided I wanted to do something in non-profit and if I could find a way to do so engaging volunteers, because that's what I loved doing, then that would be the ideal situation."
Upon graduation, she made a list, and lo and behold WinSport was at the top.
"Some of the connections that I've made and the people I have met through volunteering, even if they are not in my life at this point, have all helped me to become who I am today," she says. "Every opportunity, every encounter that you can have volunteering teaches you a new, important life skill."
Calgary is well-known for its volunteer spirit. And if it wasn't for that spirit, the Calgary 1988 Olympic Winter Games wouldn't have been the amazing event that it was. More than 10,000 people from all walks of life gave their time and energy to help ensure the Games were a success.
"One of the coolest parts about volunteering is that it draws in everyone. Going on those engineering trips, I was a business major. I would be in that group with people who are studying engineering, not necessarily just civil engineers either, but chemical engineers that just wanted to bring their knowledge into that community and be able to learn as well," says Jessica. "It just builds connection, because you all have a similar passion and a similar goal in mind, even if you never would have connected in different circumstances.
"Extending that to WinSport, we have volunteers coming in who are anywhere from 13 through to being several years into their retirement. It's just the passion for being at WinSport, sharing their love of sport and healthy living, that brings them all together."
WinSport is not only a four-season organization for sport and recreation, but it has a significant food and beverage operation that hosts a substantial number of events annually. That means the need for volunteers is considerable. Pre-pandemic, more than 400 volunteers were a part of WinSport's database.
"Working with different departments is probably one of the most exciting things about my job. Volunteering is also one of those activities that brings out everyone's passions and brings out the best in people," she says.
"The nice thing about volunteering is that we are all a team. Whether you are 13 years old, and this is your first time in customer service or you are in your 70s and have garnered years of experience, you are building connections, talking to each other, helping the community."
WinSport is always looking for new volunteers, full-time Team Members, or seasonal/part-time Team Members. Visit winsport.ca for information and opportunities.
"WinSport is a great place to volunteer or work in general. The team is fantastic and so supportive," says Jessica. "Share your passion. Just take the opportunities that let you share your best self."