Welcome
We are so excited to have you join us at Canada Olympic Park in 2023! We offer year-round activities on over 260-acres including skiing, snowboarding, tubing, skating and hockey, fitness, lessons, camps, and more! Here's you'll need to know to plan your visit.
We are located at 88 Canada Olympic Road SW in Calgary just off the TransCanada Highway heading west.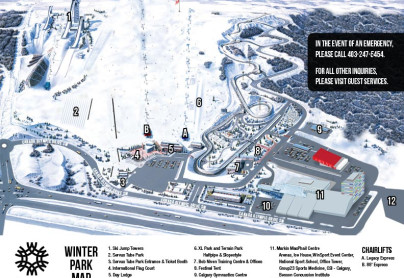 Winter Park Map
Plan Your Visit
Winter Hill and Servus Tube Park
Here are a few tips to get the most out of your visit:
Hours of operation. Be sure to check these out before coming.
Hill report. Get updated information on hill closures due to weather.
Arrive early. Give yourself plenty of time to park and get settled upon arrival especially if you are here for lessons and equipment rentals.
Parking. Drop your party and equipment at the doors to the day lodge or tube park entrance. On weekends and during busy periods, the parking may fill up. Please head to the west overflow lot, where our team will take you to the day lodge via a complimentary shuttle.
Rental shop. Please pick up your gear an hour before your ski or snowboard lesson to ensure you start on time.
Servus Tube Park. Pre-purchase your timed tickets online. The entrance is at the northeast corner of the day lodge parking lot. Arrive 30-45 minutes before your session to park and get your tickets. Note: the new entrance is at the northeast corner of the day lodge parking lot.
Note: Waivers may be required depending on your activity or equipment rental. Be sure to fill out waivers online in advance to save time when you arrive.

Winter Day Lodge

Visit the Frank King Day Lodge. You'll find our friendly Guest Services team and can pick up your hill tickets and passes here.
If you are looking for food and beverage options, visit the Coffee Market on the main floor or head upstairs for the food court or dine in the EIGHTYEIGHT Bar and Grill on the second floor.
Ski Cellar Snowboard is also located on the main floor with winter clothing and equipment available to purchase.

Skiing and snowboarding

WinSport is where Calgary learns to ski and snowboard! Winter passes and winter hill tickets are available. We offer the following lifts and carpets to challenge all levels and abilities.
88 Lift Express
Legacy Chairlift
Bronze Carpet
Silver Carpet
Gold Carpet
Progression Park
Availability will vary. Please check the Hill Report page for current information.


XL Park

Advanced and expert skiers and riders are invited to take your training to the next level at our XL Park! Get access to the XL halfpipe (22-foot tall, 120-foot long) as well as the XL Slopestyle course. Please note: a separate XL ticket or pass is required to access these areas.
Did you know WinSport is the location for World Cup FIS Halfpipe and Slopestyle events? Check out January and February competitions here.


Servus Tube Park

We offer eight lanes of snow tubing in one of western Canada's largest tube parks. This fun activity is perfect for the whole family. Please note: this activity is a separate ticket from your regular winter hill lift ticket. Get your tickets online and check out our Know Before You Go information! TIP: The entrance has moved to the northeast corner of the day lodge parking lot. If you are planning to rent a helmet, pick it up at the entrance booth.

Learn more

Safety and Risk Awareness
The health, safety and well-being of WinSport's Team Members, guests, and the community remain the top priorities for us. Please take the time to familiarize yourself with the Safety and Risk Awareness information on this website
TIP: Waivers may be required depending on your activity or equipment rental. Be sure to fill out waivers online in advance to save time when you arrive. (Links to specific waivers can be found in your confirmation email.)
Lessons and Programs
Whether you're a beginner or you're looking to refine your skills, WinSport offers a wide variety of lessons for children and adults. Choose from ski and snowboard lessons, ice skating, outdoor adventure programs, and more.

See available lessons
Already signed up for a lesson? Here's everything you need to know before you go
Markin MacPhail Centre and WinSport Event Centre
Guest Services
Have more questions? Our Guest Services team is happy to help!

Phone: 403-247-5452
Email: [email protected]