Calgary para alpine skier continues to overcome the odds
Mar 4, 2022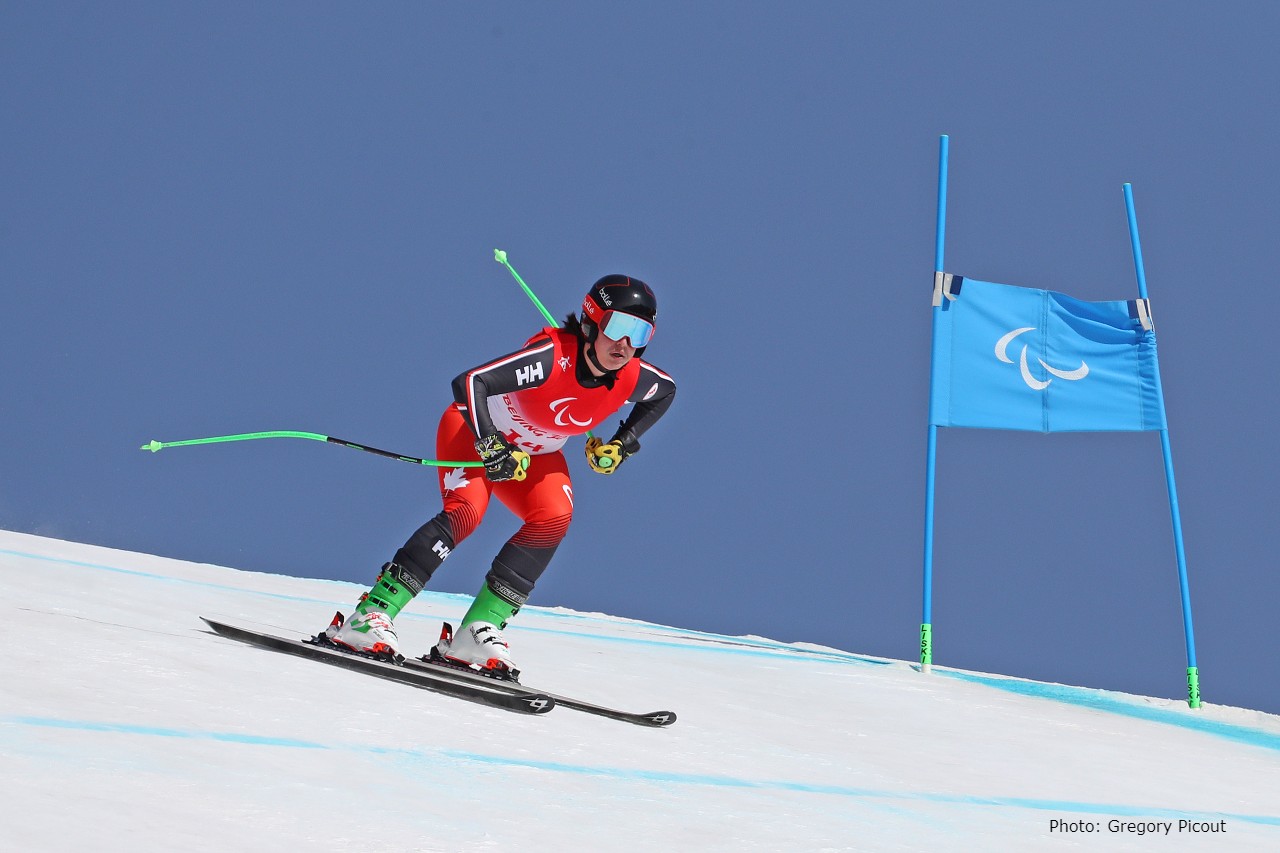 When Alana Ramsay hit the start gate at the 2022 Beijing Paralympic Games, it was like she reached the podium even before her run.
The 27-year-old Calgarian, who is participating in her third Paralympic Games, has overcome so many obstacles during her life that every time she hits the start gate, it is a victory in itself.
She first learned to ski at the age of six at Canada Olympic Park with CADS Calgary, an arm of the Canadian Adaptive Snowsports Association, as a way to help her through her cerebral palsy, which affects the right side of her body.
"It was recommended to us by a physiotherapist I was seeing at the Alberta Children's Hospital. They recommended getting into a sport like this where they work with athletes with disabilities," says Ramsay.
Her experience with CADS turned out to be life-changing.
"CADS in itself and CADS Canada, it means a lot to athletes that have disabilities," says Ramsay. "My sister actually got to come skiing with me on occasion at WinSport at CADS nights and my dad would come skiing with me on CADS nights. It turned more into a family affair. I would be having these lessons, but at the same time I would be skiing with my family, so that made it a lot more special.
"It not only gives you a sense of accomplishment, but it gives you a sense that this is now a family thing. My family can do this with me, and it gives you a sense of independence."
Ramsay hasn't forgotten her roots. In addition to learning to ski at WinSport, she's done several training sessions on the hill over the years, including time with Mark Newton, who was her Next Generation coach several years ago. He took one of her favourite pictures of her while she was at the park.
"You can see the ski jump in the background and the sun is just coming up in the background," she says. "This is so special. This is where I learned to ski, this is where it started. This is why I started skiing."
After several years of skiing for fun, she went to the 2006 CADS festival in Corner Brook, N.L. She did a fun dual slalom race which stoked her fire for competition. Downhill races were more her style.
"I fell in love with the speed. My favourite thing to do was go from the top of COP to the bottom of COP as fast as I could," she said.
Then came a huge blow at the age of 12 just as she started her racing career. She was diagnosed with epilepsy and doctors recommended she stop any dangerous or contact sports. Skiing was one of those sports.
"I was 12 years old, and I was devasted. I missed my first nationals because of that and now some guy is telling me skiing might not be in my future," she says. "I used to play hockey when I was little with my sister, now that might not be in the cards. I wasn't allowed to do soccer, that wasn't in the cards either. All these sports that I loved doing were dwindling. I chose to stick to my guns. I really wanted to go skiing and I wanted to race, I wanted to go fast. I loved going straight down the hill, I didn't care how scary it was or how dangerous it was."
She didn't let epilepsy slow her down and kept battling her way to the national team, earning a spot on the 2014 Paralympic team heading to Sochi, Russia.
"I was scared as hell. I had one World Cup race with the national team in Panorama, then I was basically going over to the Paralympics," she says. "There were no expectations on me, but it was scary. That was a whole new ball game."
She finished 9th in women's slalom and 10th in the women's super-G event in Sochi, which set the stage for a breakout World Cup season in 2015-16, where she finished the season second in the Super-G, and third in the slalom, GS and overall standings.
Watching other racers that season win Crystal Globes as overall champions in the various disciplines provided some spark for her to do the same. She ended up winning the Crystal Globe in both the downhill and slalom in the 2016-17 season.
The 2017-18 season was highlighted by a pair of bronze medals at the 2018 Paralympic Games in PyeongChang, thanks to third-place finishes in the super-G and super combined. She just missed the podium in the downhill and giant slalom, finishing fourth in both events.
Ramsay's 2018-19 season turned into a season to forget. Competing at the World Para Alpine Skiing Championships in January, 2019, in Sella Nevea, Italy, she suffered a bad crash. She didn't suffer serious physical injuries but took time off to recover.
"Unfortunately, I was diagnosed with post-traumatic stress disorder six months after my crash and I didn't realize what was happening," she says. "I was one of those people that thought PTSD was something only military personnel get. I didn't realize how it was for someone like myself to get it. I had struggled with mental health beforehand and I grew up being bullied as a child due to my disability, but this was something new."
Her experiences have led her to be an advocate for mental health.
"After I got diagnosed with PTSD, I knew I couldn't be quiet about it," she says. "I wanted to make it so no athlete, especially on my team or the next generation underneath me, ever has to be where I was, wondering who they can go to, how to talk to someone, how to bring it up, or what the signs are."
She has also been an advocate for the CADS program, volunteering when she can for Calgary CADS and attending the CADS festival when her schedule permits.
"On this team (Alpine Canada's Para Alpine Team), you are an athlete first, they don't see your disability, and that's what CADS does. You are a full athlete or a person, not a disability," she says. "If I can make some athletes join the race team through CADS because I inspired them to start racing, that would be pretty cool."
EDITORS' NOTE: After this blog was originally posted, Alana captured a bronze in the super-G event in Beijing; was fourth in the super combined; sixth in giant slalom and seventh in downhill.