The health, safety and well-being of WinSport's Team Members, guests and the community remain the top priorities for WinSport.
We look forward to welcoming you back safely.
This winter season will look much different than previous seasons with several critical changes taking place due to COVID-19 and safety being the top priority for guests and for our Team Members.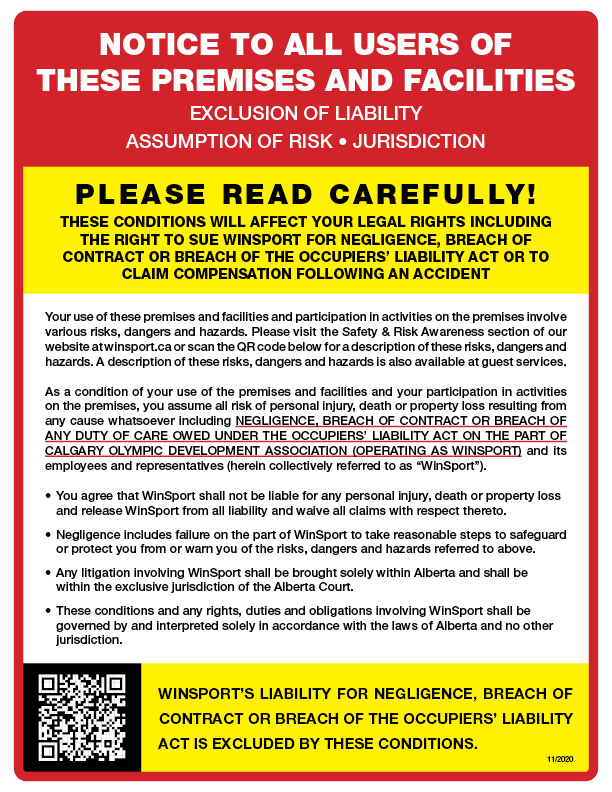 Safety & Risk Awareness
The various activities that take place at WinSport's facilities located at Canada Olympic Park, the Bill Warren Training Centre, and the Haig Glacier involve the risk of injury. The information contained in the Safety and Risk Awareness section of this website is intended to inform you of the risks, dangers and hazards that you may encounter at WinSport's facilities and help you to stay safe while enjoying these activities. Whether you are a participant in these activities, a parent or guardian of a minor participant, or a spectator/visitor, please take the time to familiarize yourself with the Safety and Risk Awareness information on this website.
Exclusion of Liability – Assumption of Risks
The use of WinSport's premises and facilities and participation in activities at WinSport's premises and facilities involves various risks, dangers and hazards. It is a condition of your use of WinSport's premises and facilities, and your participation in these activities, that you assume all risk of personal injury, death, property damage or loss resulting from any cause whatsoever, including negligence, breach of contract, or breach of any duty of care on the part of WinSport and its employees and representatives. Please read the Exclusion of Liability Sign above carefully!
All visitors to WinSport Facilities - Be aware of Slips, Trips and Falls
WinSport's facilities are spread over hundreds of acres. Much of the terrain is uneven, natural, ungroomed, and unpaved. During the fall, winter and spring seasons, large areas of the facilities, including the parking lots, sidewalks, pathways and outdoor stairs are covered with ice and snow, which create very slippery conditions.
Footwear plays an important role in reducing the risk of slips, trips and falls. Please remember, when visiting our facilities, your footwear should be appropriate for attending an outdoor, recreation facility and should be appropriate for the season and weather conditions. Ski boots, bike cleats, and many other types of footwear do not provide good traction, and extra caution should be used when walking.
Walking and running at WinSport's facilities involves various risks, dangers and hazards including but not limited to the following:
Uneven or cracked surfaces
Holes, rocks, gravel, tree roots and other natural objects
Ice, snow, and slush in parking lots and on stairs, roads, sidewalks and pathways
Icy or slippery condition of snow in and around the ski hill, tube park and other winter activity areas
Ungroomed and unkept grounds, trails and areas
Wet ground and floors
Changing weather conditions, including frequent thawing and freezing in the winter
Variations in the terrain or surface
Ruts and crevasses
Loss of balance
Dim or low lighting
Failure to act safely or within one's own ability or to stay within designated areas
Negligent first aid
Negligence of other persons
Infectious disease contracted through viruses, bacteria, parasites, and fungi which may be transmitted through direct or indirect contact
NEGLIGENCE ON THE PART OF WINSPORT
Ski and Snowboard
I am aware that Skiing and Snowboarding involve many risks, dangers and hazards including, but not limited to:
boarding, riding and disembarking ski lifts;
changing weather conditions;
avalanches;
exposed rock, earth, ice and other natural objects;
trees, tree wells, tree stumps and forest deadfall;
the condition of snow or ice on or beneath the surface;
changes or variations in the terrain which may create blind spots or areas of reduced visibility;
changes or variations in the surface or sub-surface, including changes due to man-made or artificial snow;
variable and difficult conditions;
streams, creeks and exposed holes in the snow pack above streams or creeks;
cliffs;
crevasses;
snowcat roads, road banks or cut banks;
collision with lift towers, fences, snowmaking equipment, snow grooming equipment, snowcats, snowmobiles or other vehicles, equipment or structures;
use of halfpipes, terrain parks, rails, boxes, jumps and other features, including use of dry slope or other artificial surface material;
collision with other skiers or snowboarders, or other persons;
encounters with domestic or wild animals;
loss of balance or control;
slips, trips, and falls;
accidents during snow school lessons;
infectious disease contracted through viruses, bacteria, parasites, and fungi which may be transmitted through direct or indirect contact;
lacerations and abrasions;
negligent first aid;
failure to act safely or within one's own ability or to stay within designated areas;
becoming lost or separated from one's party;
negligence of other persons; and
NEGLIGENCE ON THE PART OF THE WINSPORT
Ice Skating, Ice Hockey and Ringette
Ice skating, ice hockey and ringette involve many risks, dangers and hazards including, but not limited to:
unwanted collision or impact with projectile objects or equipment;
collision or impact with equipment, other persons, or natural or man-made obstacles;
cuts or abrasions from equipment;
improper use or failure of equipment;
power, mechanical or structural failure of facilities, terrain or equipment;
falling off equipment or from heights;
failure to properly adjust or fasten equipment;
changing weather conditions, exposure to extreme weather conditions, or exposure to hot or cold conditions;
sudden stops or changes in direction;
failure to act safely or within one's own ability or to stay within designated areas;
slips, trips, falls or loss of balance;
difficulty or inability to control one's speed or direction;
becoming lost or separated from the guides or instructors or other participants;
variable or difficult conditions;
changes or variations in terrain or surface, including but not limited to holes, depressions, slippery sections, cracks, ruts, etc.;
negligence of other persons;
a medical condition, whether known or unknown;
infectious disease contracted through viruses, bacteria, parasites, and fungi
which may be transmitted through direct or indirect contact;
negligent first aid; and
NEGLIGENCE ON THE PART OF WINSPORT
Snow Tubing


Snow Tubing involves many risks, dangers and hazards including, but not limited to:
Boarding, riding and disembarking conveyers;
Changing weather conditions;
Falling out of or being ejected or thrown from a tube;
Improper use or failure of equipment;
Collision with or being struck by other tubes or persons, whether inside or outside of the tube park boundaries;
Collision with objects, equipment, or natural or man-made obstacles, whether inside or outside of the tube park boundaries;
Collision with lift towers, fences, snowmaking equipment, snow grooming equipment, snowcats, snowmobiles or other vehicles, equipment or structures whether inside or outside of the Tube Park boundaries;
Exposed rock, earth, ice and other natural objects;
The condition of snow or ice on or beneath the surface;
Changes or variations in the surface or sub-surface, including changes due to man-made or artificial snow;
Variable and difficult conditions;
Loss of balance or control;
Slips, trips, and falls;
The failure to act safely or within one's own ability or to stay within designated areas;
Failure to stop or slow down in designated areas;
Failure to stay within a tubing lane or the boundaries of the Tube Park;
Encounters with domestic or wild animals;
Becoming separated from one's party;
infectious disease contracted through viruses, bacteria, parasites, and fungi which may be transmitted through direct or indirect contact;
Negligent first aid;
Negligence of other persons; and
NEGLIGENCE ON THE PART OF WINSPORT
Outdoor Adventure Camps
Into the Wild and Call of the Wild
Outdoor Adventure Camps involve many risks, dangers and hazards including, but not limited to:
collision or impact with equipment, other persons, or natural or man-made obstacles;
unwanted contact with projectile objects or equipment;
improper use or failure of equipment;
power, mechanical or structural failure of facilities, terrain, or equipment;
falling off equipment or from heights;
failure to properly adjust or fasten equipment;
falling out of or being ejected from equipment;
cuts, abrasions, or burns;
changing weather conditions or exposure to extreme weather conditions;
slips, trips, falls or loss of balance;
the failure to act safely or within one's own ability or to stay within designated areas;
difficulty or inability to control one's speed or direction;
sudden stops or changes in direction;
failure to slow or stop in designated areas;
becoming lost or separated from the guides or instructors or other participants;
variable or difficult conditions;
exposed rock, earth, ice, trees, tree stumps, forest deadfall, and other natural objects;
fire;
hot cooking equipment;
changes or variations in terrain, including but not limited to holes, depressions, loose gravel, rocks, mud, creeks, bumps, berms, steep or slippery sections, cracks, ruts, etc.;
negligence of other persons;
drowning (when near, on, or in water);
encounters with domestic or wild animals;
insect bites or stings;
a medical condition, whether known or unknown;
allergic reactions;
choking;
disorientation;
fatigue;
overexertion;
mechanical failure of vehicles, motor vehicle accidents or collisions, poor road conditions;
negligent first aid;
infectious disease contracted through viruses, bacteria, parasites, and fungi which may be transmitted through direct or indirect contact; and
NEGLIGENCE ON THE PART OF WINSPORT
COVID-19
COVID-19 is highly contagious, even without a carrier showing symptoms. Participation in any WinSport lessons, camps, or programming or use of or attendance at the Facilities will increase the risk of exposure to or contracting COVID-19. Being exposed to or contracting COVID-19 has many risks, dangers, and hazards, with many of such risks, dangers, and hazards being of an unspecified or undetermined nature, and include, without limitation:
illness;
respiratory illness;
short and long term health complications;
treatment risks, dangers, hazards, or complications;
death;
loss;
personal injury;
increased risk to one's health due to an underlying medical condition, whether known or unknown;
isolation or quarantine requirements;
transmission to others;
third party losses; and
COVID-19 is highly contagious and can spread to a person through many means, known and unknown, including without limitation respiratory droplets generated through a cough or sneeze; close personal contact; touching something with the virus on it and then touching your mouth, nose or eyes before washing your hands;
negligence of others;
negligent first aid; and
NEGLIGENCE ON THE PART OF WINSPORT
Off Season Activities
Mountain Biking
Injuries are a common and expected part of Mountain Biking. Mountain Biking at WinSport's facilities takes place on steep and rugged terrain and features that are both physically and technically challenging and will expose the Rider to many risks, dangers and hazards. These include but are not limited to:
use of chairlifts;
changing weather conditions;
mechanical failure of bikes and other equipment;
improperly adjusted or maintained bikes and other equipment;
falls;
loss of balance;
high-speed descents;
difficulty or inability to control one's speed and direction;
rapid or uncontrolled acceleration on hills and inclines;
extreme variation in terrain, trails or features, including steep or slippery sections, trees, roots, tree stumps, logs, cliffs, rocks, rock drops, loose gravel, holes, depressions, mud, off-camber turns, streams and creeks;
constructed features such as bridges, ramps, ladders, bumps, berms, jumps, and drops;
impact or collision with natural and constructed objects, lift towers, other mountain bikers, vehicles, pedestrians, spectators, and officials;
encounters with domestic and wild animals;
negligence of other riders or users of the premises;
travel on highways and roads;
becoming lost or separated from the guides or instructors or other mountain bikers or racers;
infectious disease contracted through viruses, bacteria, parasites, and fungi which may be transmitted through direct or indirect contact;
negligent first aid;
failure to act safely or within one's own ability or to stay within designated areas;
accidents during mountain bike lessons, programs, or camps; and
NEGLIGENCE ON THE PART OF WINSPORT