Our winter hill is closed until late November 2022. We look forward to seeing you in the spring/summer for Mountain BIke season.
Visit our hill report page for updated information on hill closures due to weather.
TERM OF CONTRACT
IMPORTANT: LIABILITY NOTICE
THE NOTICE CAN BE VIEWED HERE:
PLEASE READ THIS NOTICE CAREFULLY PRIOR TO PURCHASE! You should not proceed with your purchase or otherwise access WinSport's ski and snowboard hill or related facilities unless you have read and agree to the Notice.
No spectators allowed on the ski hill.
For the safety of our guests, there is no on-hill viewing of winter lessons or foot traffic allowed. Parents (including preschool passholders) are not allowed on snow without ski or snowboard equipment. Only those with a valid ticket/pass who are skiing or snowboarding with appropriate equipment will be permitted on snow.
Photo credit: Tourism Calgary/Dan Bannister
Quick Links


Hill Conditions & Trail Report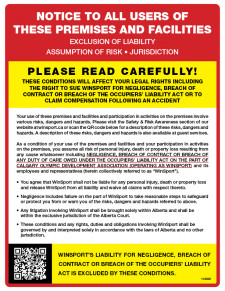 Tickets will be available to purchase mid-November.
2022/23 Winter Hill Tickets
2022/23 Hill Tickets
Regular Season Tickets
Holiday Tickets
FULL DAY
4-HOUR
LAST TWO HOURS
FULL DAY
4-HOUR
Preschool (Under 6)
$26
$24
$29
$29
Youth (6-17)
$44
$34
$29
$49
$39
Adult (18-64)
$69
$59
$44
$79
$66
Senior (65+)
$44
$34
$49
$39
Family*
starting at $159
starting at $139
$184
$159

Prices do not include GST
*Pricing for 2 Adults, up to 3 children
Tickets will be available to purchase mid-November.