Donate to WinSport
Your support is needed
In donating to us, your contribution will go directly to The WinSport Mission Development Fund. The fund seeks to advance our mission to provide opportunities for Canadians to discover, develop, and excel at sport through world-class training, facilities, and exceptional experiences. Donate directly to a WinSport program that aligns with your values and reason for giving.
Make a one-time, monthly, or planned giving donation.
By donating to one of our specific areas below, your gift goes straight to work and supports your community. Your donation provides an opportunity to participate for those who need it.


To make a planned giving donation, or for questions about donation and philanthropic initiatives please contact:
Donate directly to a WinSport program that aligns with your values and reason for giving
Community Impact Programs
Adaptive Sport Program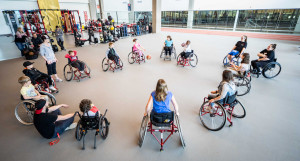 WinSport has designed an inclusive, multi-sport program that helps introduce Calgarians with and without physical disabilities to adapted wheelchair sport opportunities.
Each week, participants are introduced to a different adapted sport, delivered by expert coaches from local and provincial organizations, in each respective sport. Having the organizations lead the sessions gives the participants the most authentic experience possible. Our goal is to provide an opportunity to discover adapted sports and give participants information on how to take the sport further after this program.
Testimonial
"Adapted wheelchair sports through WinSport has been one of the most amazing things my son has had the pleasure of taking part in (myself as a parent watching his love of it was so rewarding). Sawyer has been given access to sports he would never have had the opportunity to experience. The growth in his confidence and strength through this nine-week program has been amazing, not to mention the friendships and relationships we've gained. He's already signed up for adapted hand-cycling and would like to join wheelchair basketball. The program also offered able-bodied participants, like my other children, the chance to be involved with their brother. I can't thank Winsport and Wheelchair Sports Alberta enough for all they have gifted my family by running this program."
– Cassandra M
Newcomers Program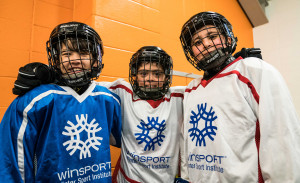 The WinSport Newcomers Program was first launched in 2017 as a way to use our expertise in helping people discover snow and ice sports to integrate newcomers to Calgary. We work to remove barriers to these programs, including cost, to help encourage newcomers of all ages to take part in skiing, snowboarding skating. We have now expanded to include mountain bike lessons from spring to fall.
Partnering with The Centre for Newcomers, we have welcomed over 350 participants in the past three years. Our abilities have developed in programming on snow and ice over the past 50 years and our drive to innovate and pioneer opportunities make us the organization of choice for this type of initiative in Calgary.
Testimonial
"This program means so much to my daughter and me. My daughter is 11 years old and from the age of two until last year, I did not see her because I had to leave her in the Philippines while I worked here in Calgary. I was finally able to have my daughter join me in Calgary last year. These snowboarding lessons have been a Godsend for both of us. I am finally able to provide Amelia with an opportunity to try a Canadian sport. For Amelia, I am watching her become more confident and comfortable in her own skin in these lessons. We now have something to talk about at home and bond over. These snowboarding lessons have been great for Amelia and our relationship. I am so thankful."
– Susie, whose daughter Amelia was enrolled in the program as a newcomer to Calgary.
Female Sport Development
WinSport offers several development opportunities through camps and programs designed to address the fact that by age 14, girls are dropping out of sports at six times the rate of boys. We offer an environment where girls can pursue their athletic objectives, develop confidence, and feel empowered to succeed in sport and life. Programs include mountain biking, hockey camps, and skiing and snowboarding.
We have also expanded these programs to women's only programs, where they can feel comfortable with individuals of the same mindset and without the fears that are typically associated with co-ed sports. Our programs build a lifetime of engagement for females in sport and healthy active lifestyles. With additional funding, there are opportunities to grow the programming to provide more for this community.
Testimonial
"I participated in the Women's Only ski program twice. I felt comfortable learning a new skill alongside other women at the same level and appreciated the camaraderie that was built in a small group with focused attention from the instructor. I learned a lot to progress my skills and comfort level on the hill but also gained knowledge of women's equipment, how to dress for various weather conditions, and how to stick with a sport that I can continue to enjoy throughout my life."
- Kristen W
National Sport School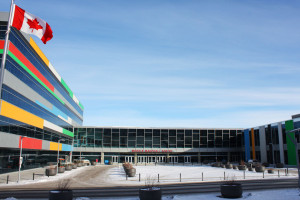 The National Sport School first opened in 1994 and has been based at WinSport's Canada Olympic Park since 2011. The school uses innovative approaches to support student-athletes from Grade 8 to 12 to achieve both academic and sporting excellence by providing access to centralized resources and world-class training facilities. National Sport School Bursary Fund assists National Sport School student-athletes and their families who are in need to bridge the gap between their capacity to pay for the NSS programming and the full cost of attending the National Sport School.
Testimonial
"My daughter attended this institution. She went all the way through to the Alberta team and ultimately ended up with a full ride to Harvard. That speaks powerfully to what this institution can do and the multi-faceted aspect of what it brings to sport. There is no way she would have gotten as far as she did without being in a structure such as the National Sport School. It is unique and it is a treasure."
– Steve G., parent of NSS graduate