Partner Programs coming fall 2023
Check back in fall 2023 for updated information. Visit our partner websites to learn more.
Sunshine Super Card 2022-23
Sunshine Super Cardholders, please visit Guest Services at WinSport to redeem your bonus day. Additional discount days are offered for the Sunshine Super Card.
Please call Guest Services at 403-247-5452 to purchase.
Discount days are $29 per ticket plus GST.
Note: SSC offers are not valid during 2022-23 blackout dates:
Saturday, December 24 – Sunday, January 8
Saturday, February 18 – Monday, February 20
Saturday, April 1 - Sunday, April 2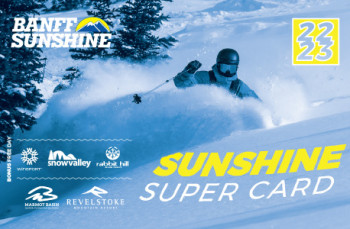 The Grade 4 & 5 SnowPass program at WinSport
Grade 4 & 5 Passholders can visit WinSport twice when skiing with an adult*
The 2022-23 SnowPass is $29.99 and is available online
Passholders get 2 free passes at every participating ski area over the lifetime of the SnowPass.
To learn more, Rules and Regulations and FAQ's.

Not valid during WinSport blackout dates:
Friday, December 18, 2022 - Sunday, January 8, 2023
Saturday, February 18 - Monday, February 20, 2023