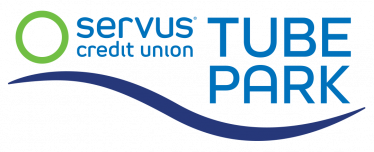 Servus Tube Park tickets are available below
Please note: cold weather may impact operations. If you have purchased tickets in advance, you will be contacted by email if your booking is affected. Due to forecasted cold temperatures, we will post the latest updates and closures on our hill status page.
WinSport has implemented the Alberta Restrictions Exemption Program (REP) in accordance with the City of Calgary's Vaccine Passport Bylaw at our ski and snowboard recreation facility. This will provide operational efficiencies with fewer restrictions and a better experience for our guests.
WHAT YOU NEED TO KNOW TO COME TO WINSPORT FACILITIES
Book Servus Tube Park tickets for Friday evenings ($15) or weekend mornings ($20) or afternoons ($25).
Tickets are for 2-hour time periods.
Please arrive up to 45 minutes prior to pick-up your tickets at our outdoor ticket booth. Access to the park will be provided 10 minutes prior to your start time.
If we are closing due to weather, we will contact you to rebook.


Servus Tube Park Fridays: 4:00 p.m., 6:30 p.m. (starts January 14)
Weekends: Saturday, Sunday 10:00 a.m, 12:30 p.m., 3:30 p.m.
Important: Spectators must buy their own tickets to access the Servus Tube Park. Guests will be informed by email if weather impacts operations.

IMPORTANT: LIABILITY NOTICE
All ticket purchases for WinSport's ski and snowboard hill and Servus tube park are subject to your acceptance of WinSport's Exclusion of Liability and Assumption of Risk Notice, which will affect your legal rights including the right to sue for negligence, breach of contract or breach of the Occupiers' Liability Act or to claim compensation following an accident. PLEASE READ THIS NOTICE CAREFULLY! Please read this notice prior to your purchase and only proceed with your purchase if you have read and agree to the notice.

Discounted Friday evenings in the Servus Tube Park
Thanks to our sponsor, Servus Credit Union, tickets are only $15 on select Friday evenings. Spots must be reserved in advance for each person visiting the Tube Park.
Book tickets for our 2022 Servus Tube Park Friday nights: January 14, 21, and 28.
On January 31, we will open up our tickets for February 4, 11, 26, and March 4.
Tickets are $15 each. Friday sessions run 4:00-6:00 p.m. and 6:30-8:30 p.m.