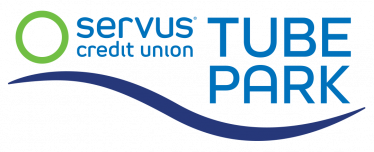 Opening mid-december
Enjoy snow tubing at the Servus Tube Park at WinSport! Tubing is a great beginner winter activity, requiring no previous experience or special equipment. Snow tubes are included with your ticket, and a magic carpet brings you to the top of the hill. All that's left is to enjoy the ride!


The Servus Tube Park Features:
Eight lanes of fun
A magic carpet to bring you and your tube to the top
On-site washrooms
Important: All spectators must buy tickets to access the Servus Tube Park.
Entrance location
The entrance to the Servus Tube Park is now located at the northeast side of the day lodge parking lot. Park nearby if spots are available. If the day lodge parking lot is full, please make your way to the west overflow lot (see map) where a shuttle will take you back to the Servus Tube Park.

Pick up your tickets and if needed, your rental helmets (waiver required) at the entrance ticket booth,

Winter Trail Map & Tube Park Entrance

Please note: cold weather or wind may impact operations. If you have purchased tickets in advance, you will be contacted by email if your booking is affected.


TERM OF CONTRACT
IMPORTANT – EXCLUSION OF LIABILITY
THE NOTICE CAN BE VIEWED HERE:
PASS REMAINS PROPERTY OF WINSPORT
All Passes remain the property of WinSport. Passes are not transferable, they are not to be shared, given away or resold. Passes are REVOCABLE FOR MISCONDUCT OR BREACH OF WINSPORT'S RULES OR REGULATIONS.
PLEASE READ THIS NOTICE CAREFULLY PRIOR TO PURCHASE! You should not proceed with your purchase or otherwise access WinSport's ski and snowboard hill, the Servus Tube Park or any of WinSport's related facilities unless you have read and agree to the Notice.
2023/24 Tickets coming soon
Helmets are strongly recommended (especially for children). Guests are encouraged to bring their own helmets for use. A limited amount of helmets are available for rent.
| Ticket Type | Price |
| --- | --- |
| Regular ticket | $29 |
| Servus Tube Park Friday* | $18 |
| Helmet add-on | $10 |
Prices do not include GST
Know Before You Go
Checking In
The entrance to the Servus Tube Park is located at the Northeast end of the main parking lot at the day lodge.
No entrance is permitted to the park without a valid snow tubing lift ticket. This includes spectators.
Tickets must be purchased online in advance. Please arrive 30 to 45 minutes in advance of your booking to get your tickets from our outdoor ticket booth.
Please note that access to the hill will only be permitted 10 minutes before your booked time.
If you rent a helmet, arrive early to get your tickets and pick up your helmet at the Tube Park trailer. Ensure you have completed a helmet waiver.
Age and Weight
The minimum age requirement is 4 years old.
The minimum height requirement is 36 inches/92 centimetres tall. Children below this height are not permitted to ride.
Children over 42"/107 cms tall may tube on their own.
Children between 36 inches/92 centimetres and 42 inches/107 centimetres can tube with an accompanying adult in a separate tube, The adult must hold the child's tube during descent.
All children under the age of 12 must be under the supervision of a parent or legal guardian at all times. WinSport staff are not responsible for supervising or monitoring children's activity.
Helmet Rental Waivers
Important: Waiver for helmet rentals
Rental of a Tube Park Helmet (the "Helmet") is subject to completion of WinSport's Release of Liability, Waiver of Claims, Assumption of Risks and Indemnity Agreement (the "Waiver") by the participant or their parent/legal guardian prior to the use of the Helmet, if such Waiver has not yet been completed. In the event the Waiver is not completed, rental of the Helmet shall not be permitted and a refund will be provided. PLEASE READ THIS WAIVER CAREFULLY! By signing, you will waive or give up certain legal rights including the right to sue for negligence, breach of contract, or breach of the Occupiers' Liability Act or claim compensation following an accident. The Waiver can be viewed and completed here.
What to wear
Tubers should prepare for varying temperatures and weather conditions — this is Calgary.
Insulated winter boots with a good grip. (Open-toe footwear is not permitted.)
Warm winter clothing (full-length pants, jackets), a hat or toque, and gloves or mittens. (Shorts are not permitted. )
Snow pants (especially for children).
Shirts are required. Ski jackets are recommended.
Ski goggles.
Helmets are strongly recommended (especially for children). Guests are encouraged to bring their own helmets for use. A limited amount of helmets are available for rent.
Ski boots are not permitted in the Servus Tube Park for safety reasons.
Tubing in groups
One person per tube. Adults may hold onto their child's tube for safety.
Children are not permitted to ride on their parent's lap.
Group tubing is possible. Sliders can link together and go down at once — conditions permitting. Check with your attendant.
Ride information and safety overview
All participants must ride their own individual tubes provided by WinSport. The use of other sliding objects is strictly forbidden.
All participants must follow attendants' instructions and obey posted signage and closures.
Unsafe conduct is not acceptable.
Anyone under the influence of alcohol or drugs are not able to tube.
Snow tubes are not allowed outside of the designated tubing area.
Management is not responsible for personal injury, damage or wear to clothing due to any cause whatsoever while you are engaged in snow tubing and/or activity associated with snow tubing.
Helmets are strongly recommended (especially for children). Guests are encouraged to bring their own helmets for use. A limited amount of helmets are available for rent.
*Failure to follow these safety measures will result in your discharge— without a refund.
Our highest priority is the safety of our guests while at WinSport. Keep in mind lane conditions vary with weather and use. Our guests must understand we may need to act on sudden changes or closures.
Refund Policy
There are NO refunds on ticket purchases.

We offer snow or rain checks when conditions don't meet expectations within 30 minutes of purchase. They may also be offered if the chairlifts or magic carpets aren't working for more than 30 minutes. We don't offer refunds or exchanges from a snow or rain check.