WinSport launches fourth session of Multisport Adapted Program
Jan 27, 2023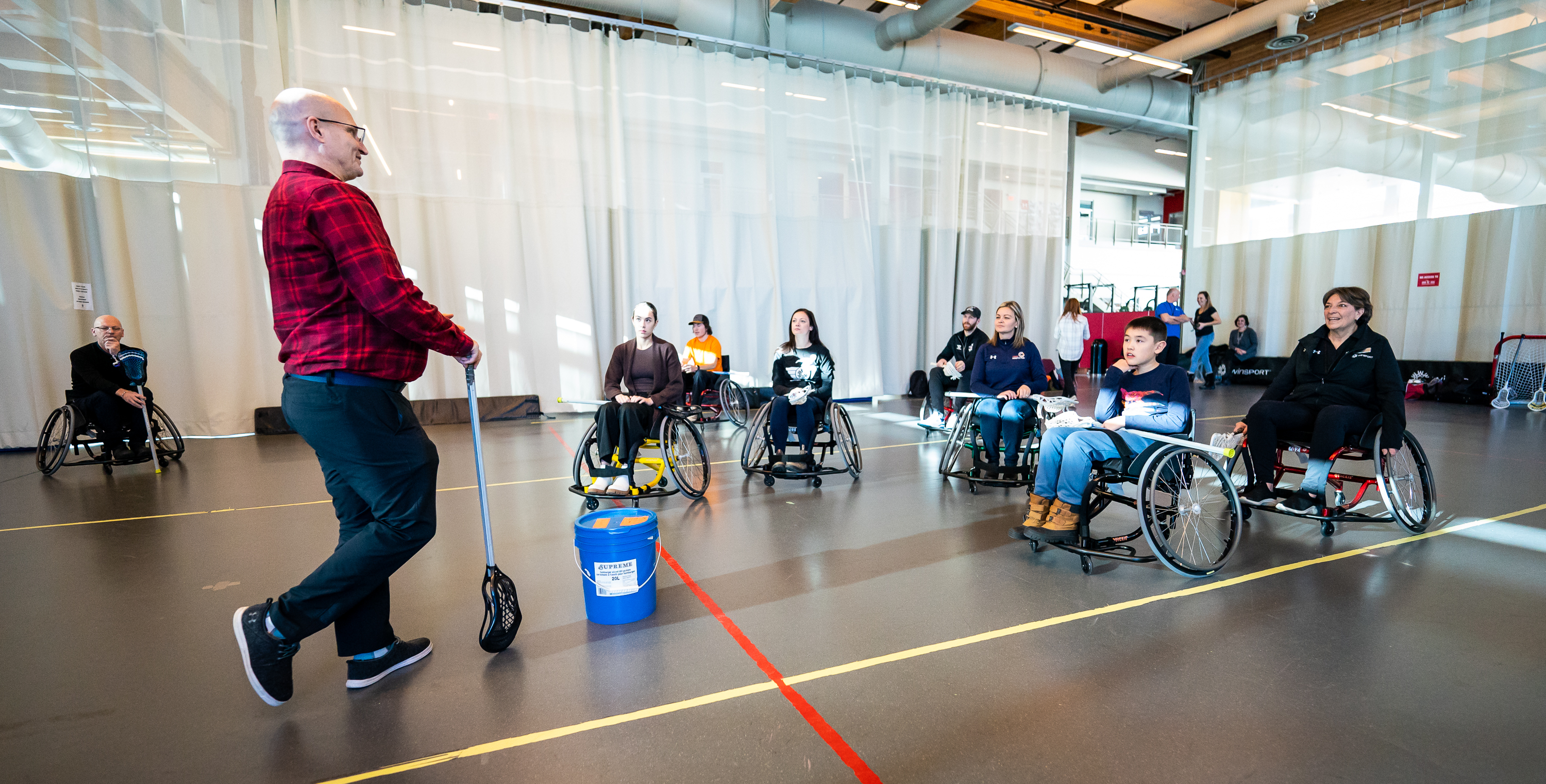 The fourth session of WinSport's Multisport Adapted Program kicked off on Jan. 22, but this one was special.
Thanks to a grant from the Calgary Foundation, WinSport unveiled its own new fleet of 27 wheelchairs, featuring five different sizes painted in the colours of the five Olympic rings. It is a game changer for the adapted program, which is part of the Calgary Adaptive Hub, powered by Jumpstart.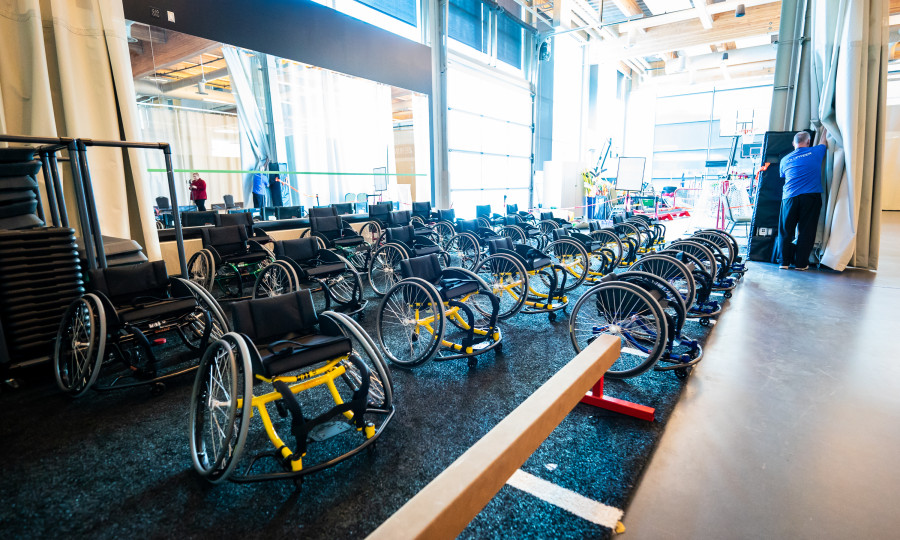 Wheelchair Sports Alberta had provided wheelchairs for the program since 2019, but WinSport was one of many groups looking to use these chairs. Having our own fleet means we run our programs more regularly and support other users by lending them out when they are not used for WinSport opportunities.
The purpose of the free program is the promote inclusivity and accessibility in sport by introducing Calgarians with and without physical disabilities to adapted wheelchair sports. Participants are introduced to a different wheelchair sport each week by coaches from local and provincial sport organizations in each respective sport. WinSport provides the space, the sport, and the wheelchairs. The experts provide the instruction.
Week 1 of this sessions featured lacrosse, with Zach Currier, a veteran player with the National Lacrosse League's Calgary Roughnecks joining in the fun with instruction from Scott Godfrey of Lacrossing Barriers.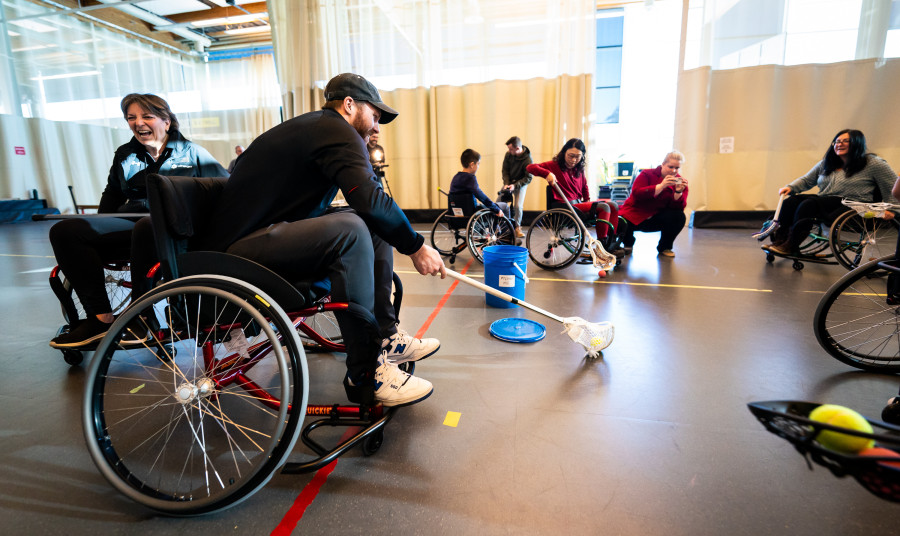 "It gives you a ton of respect for the athletes that do this (using wheelchairs) in the Paralympics and the Olympics. It's really cool to experience it myself and it definitely gives some perspective on how talented those guys are," said Currier.
What was the most difficult part for a player that knows the game at its highest level?
"In my opinion, it is trying to figure out how I manoeuvre with the ball and steer at the same time," he said.
For Ling Zhou and her son William Harder, both able-bodied participants, it was a great family opportunity.
"Today is my first time to do it with William. We played together and learned teamwork, to be a team player, to have patience, to take turns and to improve our skills," said Zhou, whose son has special needs. She also works with special needs individuals.
"These adapted programs will be very beneficial for children with special needs to get active and to improve their cognitive life as well."
William had a blast learning about the sport and using a wheelchair.
"I like the tossing. I got to learn how to toss in a wheelchair in lacrosse. I'm not that good at lacrosse and now I am better I think," said William.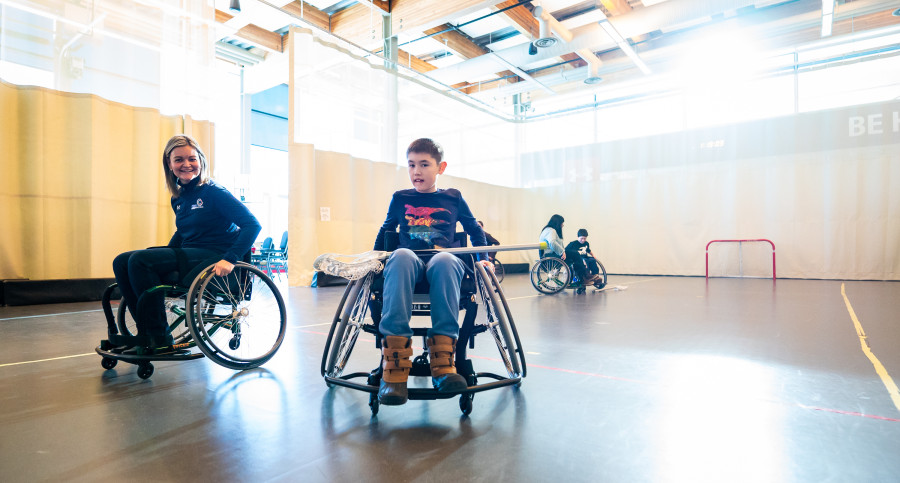 Of course, we would be remiss without thanking Tam Wishart, co-founder of Maximum Healthcare and Mobility. Despite supply chain issues, Wishart was able to secure the chairs at a discounted price, allowing WinSport to nearly double the fleet from its initial budget of 15 chairs.
Participants can register for any or all of the sessions, and WinSport encourages participants to invite family members, friends, or teammates. Registration is completely free thanks to funding and support received from the Calgary Adapted Hub, powered by Jumpstart.
Fencing is scheduled for Jan. 29, with para (sledge) hockey on Feb. 12, followed by basketball (Feb. 26), rugby (March 5), yoga (March 19) and tennis (March 26). All sessions run from 1 p.m. to 3 p.m.
You can register for the program here.
You can also check out the media coverage from the session launch:
Global News (6 minute mark)