The Servus Tube parks welcomes guests for the 2022/23 season
Dec 16, 2022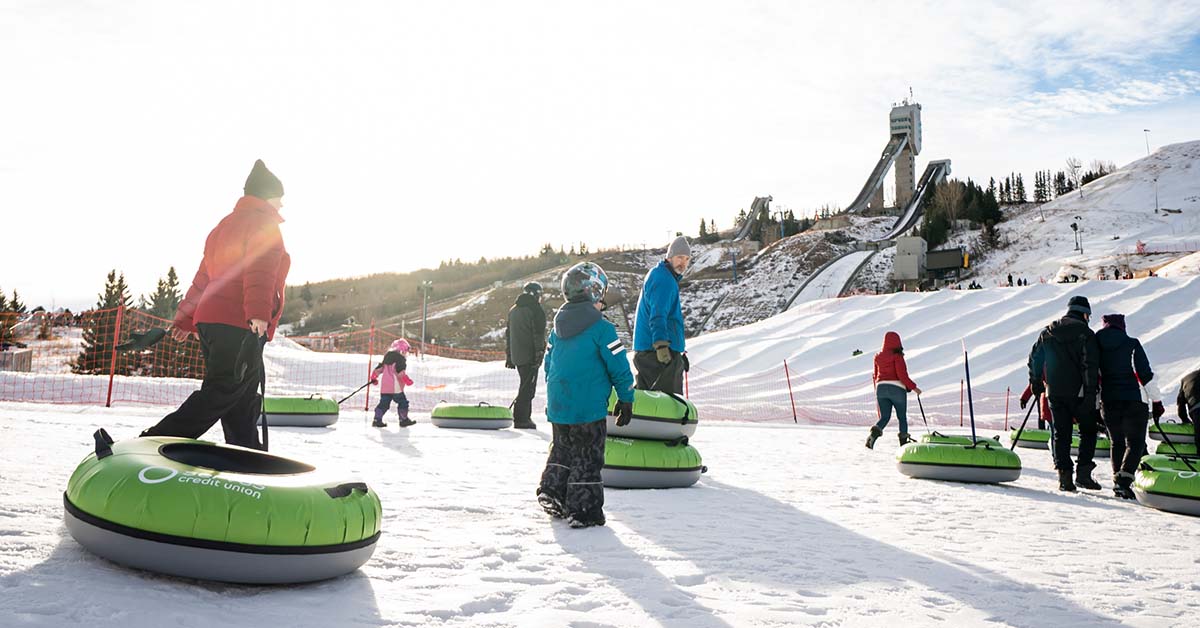 The Servus Tube Park opens Saturday, Dec. 17 and that means it's time to gather your family and friends and hit the hill to rip down in some tubes for the first time this season.
The tube park is great, not only because it's a fun, winter activity that's unique, but it also requires no prior skill to do, meaning everyone in the family can head out for a day of sliding without needing to leave anyone out.
For those that don't know, the Servus Tube Park is located on the east side of Canada Olympic Park and boasts one of the longest urban tube parks in Western Canada.
The 200-metre long, 8-lane course has you hopping on donut-shaped tubes and flying down the hill like you used to do when you were a kid.
One of the biggest differences? You don't have to endure the leg workout after you get to the bottom when trying to get back to the top.
Our magic carpet will have you ready to get back to the top of the hill in no time, meaning you can spend less time climbing hills, and more time sliding.
This year, WinSport has introduced a new entrance that will look to make the process of getting to the tube park a little bit easier, and a way more festive!
Now, there's no need to head into the Frank King Day Lodge to get your tickets. Once you find parking, head to the far northeast corner of the day lodge parking lot (to the left of the Executive Offices building) and locate the ticket booth.
With strung-up lights and a big entrance sign, it's pretty hard to miss!
From here, you can grab your tickets and head on in. If you are getting a helmet, no need to go to the rental equipment shop in the day lodge. Everything can be found at the tube park!
Helmets are not mandatory, so if you decide to use one, you will also need to fill out a helmet waiver. Doing so prior to arrival will make getting into the tube park a whole lot faster!
Now, it is the holiday season and it's going to get pretty busy, so make sure to book your tickets in advance if you want to make sure you secure your spot on the hill.
Once that is all done, head through the guided path with blue and green lights to the tube park.
This year our hours will be as follows:
Open weekends and holidays:
Saturday, Sunday: 10:00 a.m., 12:30 p.m., 3:00 p.m.
Holidays (Dec 24 - Jan 6 / Feb 20): 10:00 a.m., 12:30 p.m., 3:00 p.m.
And beginning on Jan. 13, we will see the return of Servus Tube Park Fridays! Tickets will be just $16 per person and will run in the evenings in two different time slots: 4pm-6pm and 6:30pm-8:30pm.
For more information and hours, visit our Servus Tube Park page.
We can't wait to see you ripping down the hill this winter season!