Seitz proud to play role in shaping Olympian's lives
Feb 9, 2022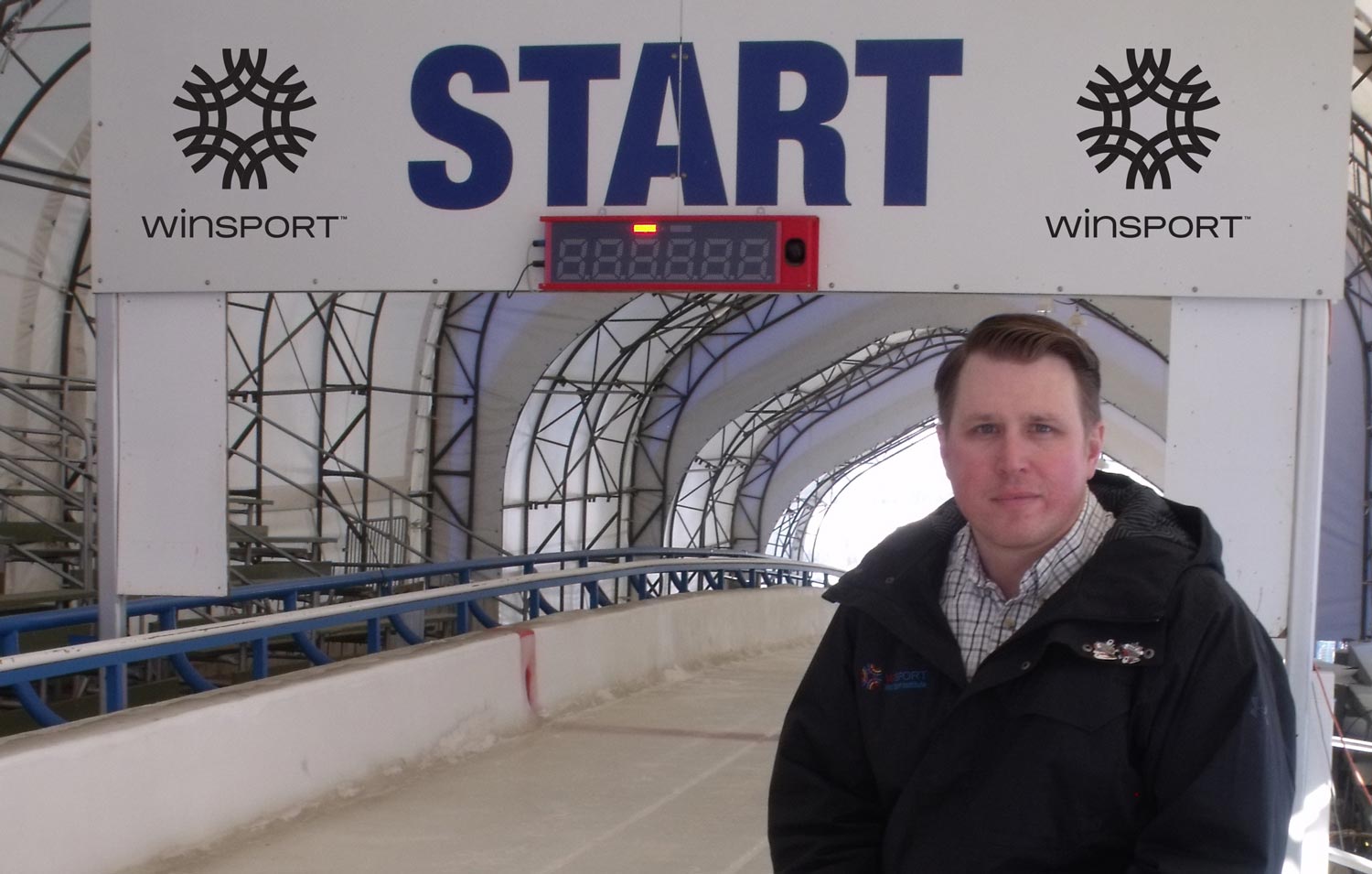 One of the men at the centre of luge – and other sliding sports for that matter – is WinSport's Senior Manager of Ice and Building Operations, Tyler Seitz.
The two-time Olympian and his team keep WinSport's four rinks and the Ice House, among the best ice in the world.

"A lot of people ask, what it is like to be an Olympian? What's it like to represent your country?" says Seitz. "It's indescribable. It's hard to put into words the feelings and emotions you have at the Games. The weeks pass quickly but they are very fond memories to carry for life."
Seitz began sliding in the fall of 1988 and honed his skills as a junior at Canada Olympic Park before moving his way up to the national team. He finished 18th at the 1998 Games in Nagano, Japan, then finished 19th at the 2002 Games in Salt Lake City.
"The 1998 Games were a great performance for me," said Seitz. "I qualified late for the Games. It came down to the last possible run at the European Championships. I was happy with an 18th place finish at the Nagano Olympics."
"However, 19th in Salt Lake City was far from my best. I had a poor performance, fresh from a top-five and few top-10s (in World Cup) right before the Games. I expected a top-10 finish. It was difficult to take. But that's sport."
The next winter following the 2002 Olympics, Seitz decided to hang up the sled. He announced to Luge Canada the Monday prior to a December World Cup race in Calgary that he would retire following the race. Six days later, he went out with a bang, winning the bronze medal at Canada Olympic Park. Canada's first World Cup Medal for a man.
In the two decades since Seitz competed, Canadian lugers have continued to gain momentum.
The 2018 Winter Games in Pyeongchang, South Korea, was a bit of a revelation for the program, with the Canadian squad winning a silver medal in the team relay; Alex Gough capturing a bronze in the women's event; Sam Edney in his final of four Winter Games appearances, finishing sixth in the men's showdown; and the dynamic duo of Justin Snith and Tristan Walker narrowly missing the podium in fourth place.
At this year's Games, Walker and Snith have returned for their fourth Olympics, while Natalie Corless,
Trinity Ellis and Makena Hodgson have qualified on the women's side, with Reid Watts the only representative in men's singles.
"Honestly, I am a bit jealous of their success, but mostly very proud," said Seitz. "I like to think my bronze medal here in Calgary in my last World Cup, got the ball rolling for Luge Canada and Regan Lauscher's silver medal in Lake Placid a couple of years later (2004) kept that ball rolling. I think that really put us on the stage for Own the Podium and all the funding partners to keep investing in luge.
While still competing, Seitz participated in an athlete training program offered by the Calgary Olympic Development Association (which operates as WinSport). He started as a lift maintenance operator and eventually moved his way into a plant operator and millwright.
"I didn't have much of a plan when I was an athlete, because everything was based on quadrennials," he said. "When I retired, the plan was to go to the 2006 Olympics, it wasn't to stop in 2003. But that's what ended up happening and I was forced to think about a career."
Thanks to his work term as an athlete, he satisfied his first couple of years of millwright school, he then went to work in the industry before taking the opportunity in 2008 to become the plant manager at the Whistler Sliding Centre, just in time for the 2010 Olympics.
In 2011, he moved back to Calgary to manage the WinSport sliding track, which is currently at the end of its life cycle and awaiting further funding before a renovation takes place. His main focus now is Building Maintenance, the Ice House and the four ice sheets at the Markin MacPhail Centre.
However, as a member of the International Bobsleigh & Skeleton Federation tracks commission, he still helps with safety inspections, track pre-homologation and homologation, which is the track certification process. He's also a go-to guy when it comes to refrigeration systems at tracks around the world.
"There's definitely a big difference between an Icemeister (ice making expert) and myself. I would never pretend to say that I am an Icemeister," he says. "I do understand ice and can help direct Icemeisters, but when it comes to the refrigeration of a bobsled/luge track, I am one of the few experts in that realm. I have had the honor to help out some of the new tracks that have been built recently and can always count on some frantic emails or texts when the Olympic Games are near."
With the 2022 Beijing Games now underway, Seitz's excitement is two-pronged.
"Every four years I am reminded of my Olympic experiences and how they have helped shape my life," he said. "We can cheer on our next Canadian Olympic team and can feel like here at WinSport we have helped shape some of those Olympian's lives by providing them with the training grounds to achieve their Olympic experience!"