Melanie followed her heart into the once male-dominated culinary field
Mar 3, 2020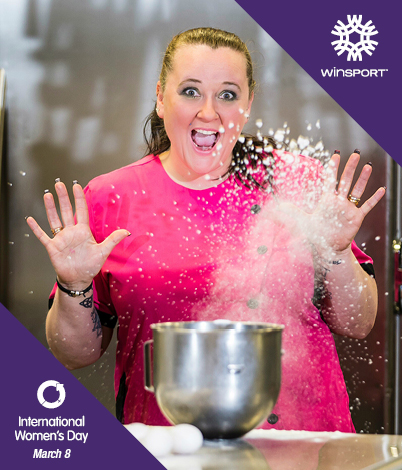 Part 2 of a six-part series profiling the Women of WinSport, in recognition of International Women's Day on March 8th and the impact women have made on WinSport.
Melanie Hennessey
Sous chef/pastry chef
Years with WinSport: 6.5 years
Many ingredients in professional kitchens have changed greatly over the past several decades. We're not talking about the evolution of plant-based foods, we are talking in terms of the personnel.
WinSport's sous chef/pastry chef Melanie Hennessey has seen it first-hand.
"The kitchen used to be big-time male dominated. When I first got into the industry 30 years ago, it was massive," says Melanie, who joined WinSport six and a half years ago. "There were barely any women in the kitchen. I would say in the past 10 years, there are a lot more female forward-thinking, as far as women in the kitchen and in the top roles."
While Melanie has had her share of male bosses over the years, her current leader is WinSport executive chef Liana Robberecht, who is one of the top female chefs in the business.
Melanie came to Canada from Manchester, England, in 1994. She was a chef at the Barley Mill, which once existed in south Calgary, and has owned her own cake decorating company, All Occasion Cakes, for more than 25 years.
She never faced any challenges being 'one of the guys' in the kitchen during the early part of her career, as she always found ways to fit in with her male counterparts. While the playing field has certainly evened out in recent years, that's not always the case in all kitchens.
"My piece of advice for women considering a culinary career is to follow your heart. Don't let anyone tell you that you cannot do it, especially in a male-dominated environment," says Melanie.
Melanie was initially wanting to be WinSport's contact for cake decorating. However, she was talked into taking on a staff role as a banquet chef, helping out for just one season. That was nearly seven seasons ago. She just fell in love with working at WinSport.
"I love creating new dishes and seeing the reaction people have and interacting with clients at events," she says.