Larson has risen to the challenge of being a young female leader
Mar 2, 2020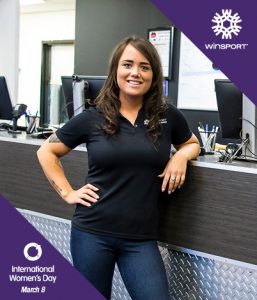 Part 1 of a six-part series profiling the Women of WinSport, in recognition of International Women's Day on March 8th and the impact women have made on WinSport.
Amber Larson
Senior Manager, Guest Experience
Years with WinSport: 7.5 years
Amber Larson has not only faced the challenge of being a female in a leadership role, but also the challenges as a young female leader moving up within WinSport.
"Regardless of whether you are male or female, there are always going to be challenges" says Amber, who is just one of a significant number of women to leave their mark on WinSport. "As a woman in leadership, it's becoming more normal. But combined with the fact that I am a young leader, you have to work harder to gain people's trust. Once you do, it's totally fine. But I feel like you have to be a strong-headed person to overcome some of those initial barriers."
She started at WinSport as a Team Lead in guest services, before moving up to coordinator and manager role. Initially, she was planning to be at WinSport for a good time, not a long time, as her priority was getting her justice degree.
With a degree in hand, however, she just couldn't bring herself to leave the job she loves so much.
She lists her mom, Cheryl, as having a big influence on her and teaching her the value of determination. As a single parent for eight years of Amber's life, she had her share of challenges she overcame.
"It really showed me what hard work and determination gets you. She was able to give me the life that I could have had if she wasn't single," says Amber. "She showed me how important it was to be supportive of each other. She taught me what it took to become a strong, determined woman."
She says she has witnessed first-hand about the role WinSport has played in the emergence of women in sport, where 39% of the full-time are women.
"It's such a great opportunity and it really makes your heart feel good when you see camaraderie, efficiencies, and positive — sometimes complex or complicated — changes meld together for the greater good of the team, WinSport as a whole, and the sport community," Amber says. "There's never a dull moment – we all work so hard but have fun every day, and leading a team who truly rally for each other, the guests, sport, and the businesses is really humbling, exciting, and encouraging."