WinSport is proud to have been named as one of Alberta's Top Employers, for the second straight year
Feb 20, 2020
WinSport is proud to have been named today as one of Alberta's Top Employers, for the second straight year.
The winners were announced this morning by Mediacorp Canada Inc., organizers of the annual Canada's Top 100 Employers competition.
WinSport is a not-for-profit community-based organization that owns and operates Canada Olympic Park. Our vision is to be a world-leading centre for athletic development. We inspire human potential through the spirit of sport by introducing people to winter and mountain sports, helping them develop their skills and thereby igniting a passion for sport and lifelong learning.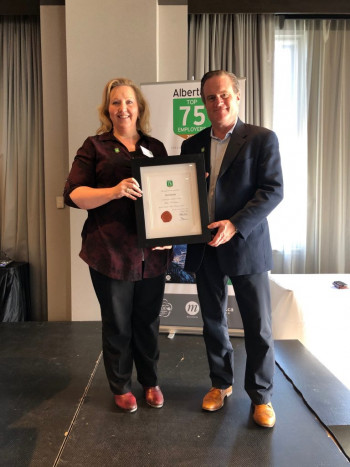 We also develop our people to be the best that they can be.
President and CEO Barry Heck says WinSport focuses on creating opportunities for employees to grow and take on leadership roles within the organization.
"We work very hard at ensuring our resources are marshalled so there are opportunities for those new leaders to emerge," says Heck. "We have tremendous opportunities for Team Members of all levels to advance. That's the foundation we're built on. We call it the WinSport Way."
WinSport has 140 full-time permanent Team Members, in addition to upwards of 700 seasonal Team Members in the summer and winter season. That's in addition to more than 400 volunteers. Where else can you ski on your lunch break in winter months or take some mountain bike runs during your day?
"We do everything we can, so our team has a healthy work-life balance and all the tools that are needed to achieve that," says Heck. "We're passionate about what we do, committed to excellence in everything we do – and it's just fun."
WinSport's longest-serving Team Member joined the organization prior to the 1988 Calgary Winter Olympics. WinSport is an organization with diverse business units, with opportunities in sport, food and beverage, operations and corporate areas, including human resources, accounting, marketing and communications.
For more on WinSport, including job opportunities, visit winsport.ca.
The winning organizations of the Alberta's Top Employers come from a range of industries, both private- and public-sector, representing nearly every area of Alberta's economy.
Employers were evaluated by the editors at Canada's Top 100 Employers using the same criteria as the national competition: (1) Physical Workplace; (2) Work Atmosphere & Social; (3) Health, Financial & Family Benefits; (4) Vacation & Time Off; (5) Employee Communications; (6) Performance Management; (7) Training & Skills Development; and (8) Community Involvement. Employers are compared to other organizations in their field to determine which offer the most progressive and forward-thinking programs. The annual competition is open to any employer with its head office in Alberta; employers of any size may apply, whether private- or public-sector.