Bryna Trollope has had plenty of support to help prove she belongs
Mar 6, 2020
Part 5 of a six-part series profiling the Women of WinSport, in recognition of International Women's Day on March 8th and the impact women have made on WinSport.
Bryna Trollope
Heavy-duty mechanic apprentice
Years with WinSport: 7 years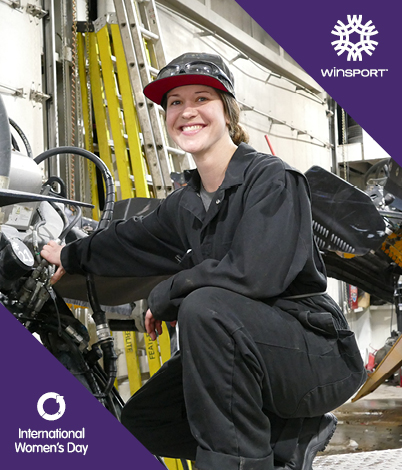 Bryna Trollope is used to fitting in as one of the boys.
She started with WinSport back in 2011 working on the organization's challenge course, and after a brief sojourn to manage a coffee shop for about a year, she returned in 2013.
Each winter since then, you could find her in the cozy comforts of a snowcat, grooming the hill at Canada Olympic Park, mostly under the cover of darkness on the overnight shift. Being a snowcat operator isn't unusual or unique, but certainly, a majority of drivers in the industry are men.
"As a woman I have definitely struggled with feeling inferior to men in the past, especially in certain environments," says Bryna. "In my case, I've always had male friends. I'm really lucky to know incredible guys who help me see that I was the only one who felt that way. I truly wouldn't be who I am today if it weren't for both the men and women in my life, equally.
"Under the right circumstances, I believe we stand to learn a lot from one another if we can remember we're all human."
Just last week, Bryna ducked out of the cab and into the shop in her new role as a heavy-duty mechanic apprentice. She learned a lot from her 'family' on the hill operations team and she learned a lot about herself, not just as a female in a male-centric role, but as a person in general.
"I lived a lot in my head and held myself to impossible standards where nothing I did was good enough," says Bryna, who was a snowboarder as she was growing up, including some time riding competitively. "Being in a machine alone can be a dangerous place for getting stuck in negative mental loops. I'd wear myself down from the inside which then fired up the anxiety and sometimes ended in panic attacks. Thankfully I work with compassionate and caring guys who did their best to support me. Ultimately, I realized my biggest challenge was coming from within and I was the only one who could make amends."
While Bryna knows a lot about how to drive a snowcat, she says it will be a learning curve to understand how to fix what is under the hood. Then again, all she'll need to do is channel her mom, Mary, who she considers a mentor.
"My mom is mentally, physically and emotionally strong, independent, adaptable, fun-loving, athletic and in some ways fearless," says Bryna. "She gives endlessly and selflessly; she is open, honest and authentic; she works hard, plays hard and still somehow finds time and energy to help anyone who needs it. Honestly, other than my mom, the people I surround myself with every day are mentors, both men and women. People who help me grow into this proud woman I am becoming, doing things I never thought I would, or could do."