Joanne Powell driven by her love of sport
Mar 6, 2020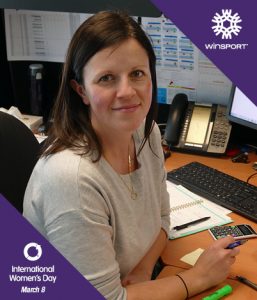 Part 6 of a six-part series profiling the Women of WinSport, in recognition of International Women's Day on March 8th and the impact women have made on WinSport.
Joanne Powell
Controller
Years with WinSport: 5 years
Joanne Powell would just as soon converge around the water cooler to discuss the Calgary Flames roster than talk about the latest Bachelor episode.
Joanne's role as WinSport's controller allows her to be at the forefront of sport, something she's always enjoyed. She previously spent seven years as a controller for Jersey City Canada. Having that link to sport was important to her and what drew her to WinSport.
WinSport prides itself on having a large number of women in the organization and in key roles within the organization. It turned out to be a perfect fit given Joanne's love of sports.
"What I loved about Jersey City was that I was doing accounting, but I was also in the sports world talking about sports, being surrounded by sports, talking to people about sports. Yes, it was retail but we talked about sports all the time," says Joanne. "My job at WinSport is more directly linked to supporting sport, which was the big draw to coming here. Being a not-for-profit makes it that much more valuable."
The accounting world typically has a mixture of male and female staff. In WinSport's case, Joanne leads an entire accounting team of female Team Members.
"There is a higher percentage of men in the accounting world, but there are obviously plenty of women in the industry, too," says Joanne. "Given the controller roles I have been in, usually the Chief Financial Officer or the part-owner of the company tend to be male, so those would have to be my mentors over the years."
As a female in such a critical role in the organization, Joanne hasn't faced any hurdles other women in similar roles have faced in the past.
"I'm still young in my career, so there are challenges with that when it comes to accounting," says Joanne. "But as a female, I haven't had any setbacks or anything like that. As a whole, WinSport is very aware of growth and development. Not all companies are like that. I am just honoured to be given the opportunity to be in the role I am in."