Before You Arrive
Waivers
It is critical that you complete your waivers in advance of arrival.

Please use the same e-mail address you used to book your lessons to sign in to complete your waiver.
Participation in WinSport's snow school program (the "Program") is subject to completion of WinSport's Release of Liability, Waiver of Claims, Assumption of Risks and Indemnity Agreements (the "Waivers") by the participant or their parent/legal guardian prior to the first day of the Program, if such Waivers have not yet been completed. This will include a Waiver for the Program and a Waiver for COVID-19. In the event the Waivers are not completed, participation in the Program shall not be permitted and a refund will be provided. PLEASE READ THESE WAIVERS CAREFULLY! By signing, you will waive or give up certain legal rights including the right to sue for negligence, breach of contract, or breach of the Occupiers' Liability Act or claim compensation following an accident.
Health Screening Questionnaire
Dress for Success
Dress in layers so you can adjust your temperature for hill conditions and stay dry. There will be no change areas on-site, so please arrive ready and use your vehicle as your 'day lodge'.
Come wearing the following items for a successful lesson experience:
Face covering
Goggles
Base layers made of moisture-wicking fabric
Winter jacket
Waterproof snow pants
Wool socks
Gloves/mittens
Neck warmer
Snowboard boots or ski boots
Snowboard or skis and poles
You must wear a face covering both on-snow, and inside. This includes in the parking lot, during check-in and check-out process, during your lesson and while inside any building. A face covering means a mask or other face covering that fully covers the nose, mouth and chin.

All face coverings must be at least 2 layers of fabric. A face covering may include a winter face/neck covering (such as a Buff) as long as it has two layers of fabric covering your nose and mouth.

It is important that all masks fit well and do not require constant adjustment throughout the lesson or during your time at WinSport. The participant's nose must be covered by the face covering at all times.

Please test your face covering before attending your lesson to ensure it will remain in place.
When You Arrive
Parking
Parking is free at WinSport. Park in the parking lot of the Frank King Day Lodge located at the main entrance on Olympic Road SW.
Please note there is construction nearby, so routes are subject to change.
We recommend arriving at least 30 minutes before your lesson. If you are renting equipment, arrive up to 60 minutes early. If you are in a program you will receive your gate pass at the time of check-in on your first day of programming
Check-in

When you are ready to start your lesson, head to the on-snow check-in area located next to the Day Lodge by the flag court. Way-finding signage will guide you to your destination.
From the parking lot, bring all your equipment and head towards the on-snow check-in area on the east side of the Day Lodge by the flag court.

Enter the check-in queue and maintain 2m distance from others.
As part of the check-in process you will be asked to confirm the following: completion of all online waivers, health screening questionnaire, confirmation of pickup/emergency contact info, unique pin code for pick up security, and any medical conditions or allergies for your child.
Once your child has completed the check-in and is under the care of their instructor you are free to leave. Please note this year we need to control access to the hill and are not allowing parents and spectators on snow.

We recommend having only 1 family member drop-off and pickup to limit exposure and have the same family member do this every day.


During the lesson
Once you drop your child off, please know:
There is no on hill access or viewing areas for any lessons or programs to watch your child. There is no access to warming space to wait for the lesson to be over.
Please use your car as your 'day lodge'. If you choose to run errands please stay within a reasonable distance of WinSport in case you are required to return to care for your child I.e. 10-15 minutes from WinSport

The coffee market is available for parents if they would like to grab a to-go coffee or food item. We ask that you be available by phone should you need to return to WinSport for any reason.

Please put a small snack in your child's pocket in case they need a nutrition break during their lesson. Please note, we are a nut-free facility.
Pick Up
Return to the same location where your check-in took place and wait in the queue, maintaining 2m of distance with others.

When you reach the front of the line, the WinSport instructor will ask you your name and your unique pin code to pick-up your child. The instructor will ask you to wait to the side in a designated space while the instructor gets your child. We will bring your child to you and record who picked the child up.
At the end of your lessons you may receive an Achievement Card from your instructor. Below is an example of what that card might look like and how to access what your child learned in their lesson.
WinSport Snow School Achievement Card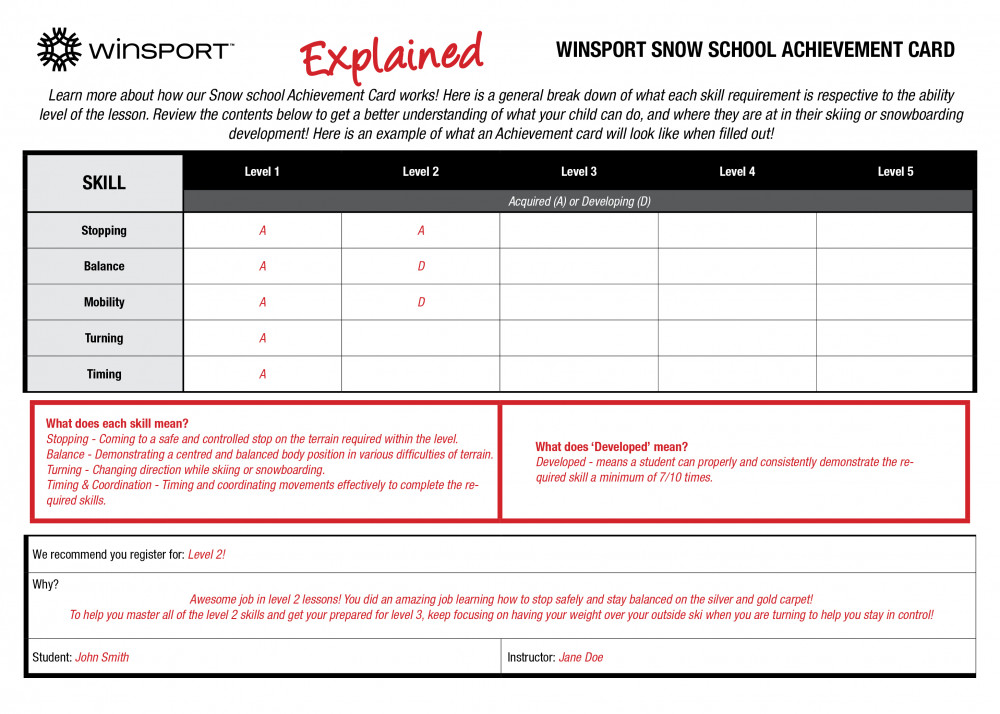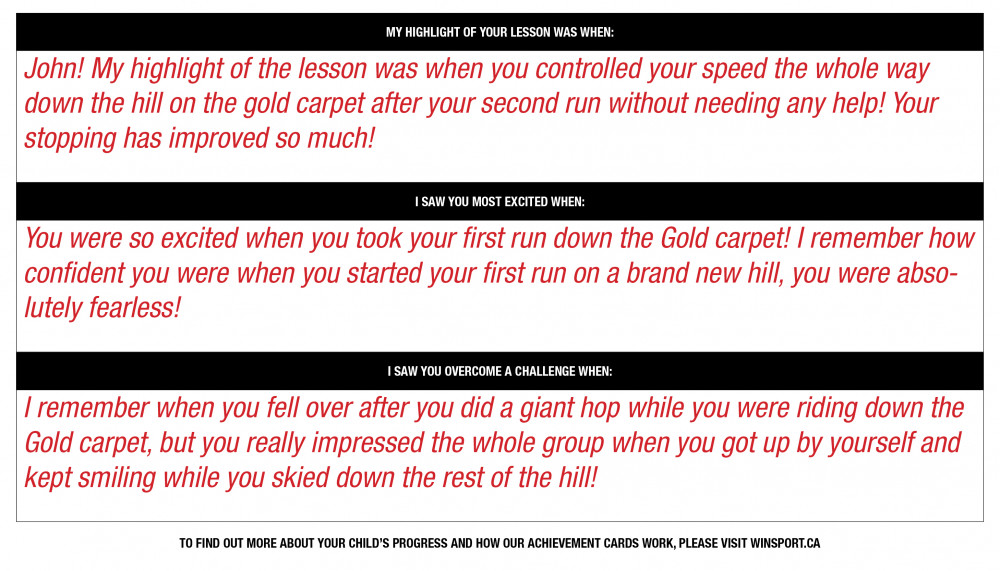 Parking Map