Get to know: Alan Fraser, WinSport's Director of Food and Beverage
Jul 7, 2022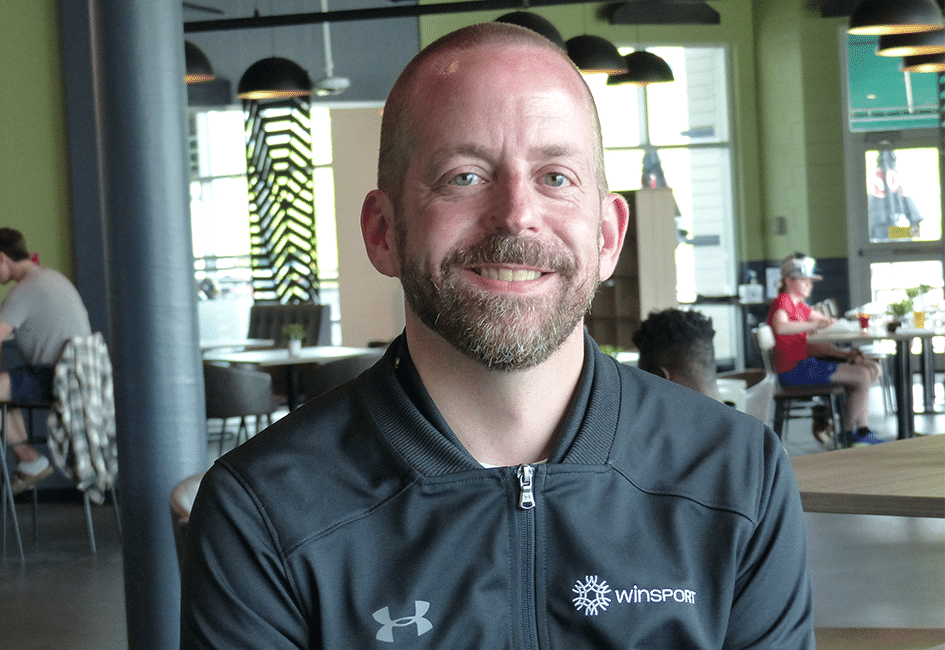 Alan Fraser's hospitality career has taken him through six countries and countless adventures working at some of the finest resorts around the globe.
In November 2019, just months before the start of the pandemic, he pursued a new adventure by joining WinSport -- a not-for-profit organization best known as the stewards of Canada Olympic Park, one of the key venues from the 1988 Calgary Winter Olympic Games.
Fraser, the Director of Food and Beverage, was tasked with elevating the food and beverage experience at WinSport, including its concessions, lounges, event spaces, and its off-site catering business.
"My background has been 20 years in luxury hotels and resorts. To come out here, I was given the opportunity to re-imagine WinSport in terms of food and beverage," says Fraser, who was born and raised in Scotland and is instantly recognizable by his thick accent. "The phrase that always sticks is that it's a blank canvas."
In fact, WinSport is more than just winter and summer attractions, such as skiing, snowboarding, mountain biking, tubing, ziplining, and mini-golf for the public, with halfpipe, moguls, and a slopestyle course for more experienced athletes.
Nearly 1,000 events of all sizes are held annually at WinSport's facilities, including weddings, conferences, meetings, and galas of all sizes. They all take advantage of WinSport's food and beverage options and event spaces, which include flexible spaces for groups large or small. Fraser also oversees the EIGHTYEIGHT Bar & Grill, Food Court, and Coffee Market inside the Frank King Day Lodge and the Garden Café and WinSport Hockey House in the Markin MacPhail Centre.
One of Fraser's first orders of business was renovating and renaming the EIGHTYEIGHT Lounge in the Frank King Day Lodge. Mainly a small gathering place during the ski and snowboard season, he expanded the space, gave it a facelift, and renamed it the EIGHTYEIGHT Bar & Grill. It opened this past winter and it now provides a more inviting space in the winter and summer months.
The new-look EIGHTYEIGHT opens daily in July and August, providing a great opportunity for a great meal or cold refreshments. (There is even a new designated patio space to soak up the sun while enjoying a craft beer during lunch or dinner).
In addition to providing catering for events held on the WinSport campus, Fraser also leads the team that provides food and beverage to multiple venues and events throughout the city.
"When I speak to my team, I implore them to use my experiences," says Fraser. "I have lived and worked in six different countries in a variety of different roles. I'm very fortunate that I've done things that people have only dreamed about doing and I want people to learn and understand."
Fraser graduated with a Bachelor of Arts degree in International Hospitality Management from Queen Margaret University in Edinburgh, Scotland. His course included six months of living and working in Philadelphia.
After graduating, his journeys include Airth Castle, a hotel and spa in central Scotland that dates back to the 14th Century; the Lowry Hotel in Manchester, England; the Hotel de Rome in Berlin, Germany where he was a part of the pre-opening team; the prestigious Gleneagles Hotel, Scotland; the Fairmont Banff Springs; Fairmont St. Andrews in Scotland; Fairmont Chateau Lake Louise; Al Badia Golf Club in Dubai and the Four Seasons Hotel and Resort in Whistler, B.C.
And now WinSport, where he built a rapport in the fall of 2019 during the interview process with WinSport's Chief Operating Officer, John Sutherland. Sutherland is familiar with many of Fraser's stops, as he was the managing director for SMG Europe, which oversaw many prominent venues such as Manchester Arena, Newcastle Arena, Wroclaw Stadium, Belfast Odyssey Arena, and the iconic Leeds Arena.
"We seemed to click quite quickly," says Fraser. "He gave me this opportunity by saying 'with your experience, come in and help us evolve our food and beverage business'. To be honest, it is a complete change from what I am used to. But I like challenges.
"Some people are quite comfortable after they find a job they like, and they do it for 25 years. I am the opposite. Everywhere that I have been, the lifespan is normally three years. But that will only get you so far, and it got me five moves before my wife said no more moves!!!"
Fraser is self-motivated. All you need to know about him is that at age 11 he was selling eggs door-to-door. He was working in a hotel as a kitchen steward at age 14; waiter at age 16 and bartender at 18. He always had multiple jobs in high school and university.
"I like to fix things. I like to leave when the job is done and when I think that both personally and professionally, I can't grow anymore," he says. "And that's when I start to look for my next adventure."
This time around, he's planning to remain in Calgary for a good time and a long time. He has been with his wife, Clare, for 14 years and she is excited to put down some roots and see her husband have some work-life balance.
"Hospitality can be a very thankless career," says Fraser. "No matter what you do, there is always more that can be done. My entire career has been built on six-day weeks and 16-hour days. This is a change of pace, but it doesn't make it any easier. That's part of the attraction is that it is a change of pace."
A change of pace for Fraser means a change of pace for WinSport.