Now more than ever, it is essential to stay active
Oct 20, 2020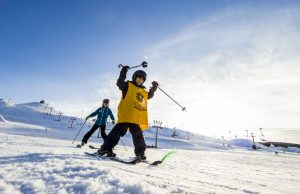 Guest blog:
WinSport would like to thank Dr. Lisa Daroux-Cole of the University of Calgary and Mount Royal University, who has provided WinSport the following blog on the importance of staying active as we head into the winter months during this pandemic.
By Dr. Lisa Daroux-Cole
U of C, Faculty of Kinesiology and MRU, Faculty of Health, Community and Education
The state of the world is unlike anything we have seen before, making it even more difficult to create effective coping mechanisms for the emotions experienced in this time of uncertainty. Researchers are beginning to publish studies examining how the pandemic has impacted society, and sadly, it is worse than expected. Evidence suggests a spike in anxiety and depression amongst Canadians, and 'Mental Health Research Canada' has reported the levels of anxiety and depression are considered serious (Mental Health Research Canada poll). As we proceed in times of high anxiety and stress, it's is increasingly important to protect your mental wellness (Mental Health Commission of Canada, Mental Health and wellness during the COVID-19 pandemic).
A plethora of literature shows that reasonable exercise reduces anxiety and depression (I will point out that people exposed to inappropriate exercise, such as prolonged bouts or high-intensity training without adequate rest are in fact more likely to experience immunodepression and increased risk of illness. Nieman et al., 2019). Not only is exercise great for our mental health, researchers demonstrate that physical activity is protective in that it has a positive impact on immunity (Laddu et al., 2020) by reducing many risk factors that are known to compromise immune function (Fletcher et al., 2018). For example, exercise relieves stress; stress itself can weaken the immune system (Morey et al., 2015).
A really interesting study recently published by Lesser and Nienhuis from the University of Fraser Valley, Chilliwack BC, found that not only was exercise DURING this pandemic a significant factor associated with positive well-being outcomes, they reported OUTDOOR physical activity appeared to offer protective benefits in well-being and noted that people who were inactive before COVID-19 who began exercising outdoors showed the greatest improvement in wellbeing. Fraühauf and colleagues (2020) in Austria highlight the importance of exercising outdoors, particularly now as we are asked to stay socially distanced, stating the numerous benefits that outdoor activity has on mental health. Exercising outdoors can bring additional positive effects on mental health; the beautiful scenery and distraction can positively affect mood (Berto, 2014), and natural sunlight strongly influences mental health (Beute & Kort, 2014).
Now more than ever, it is essential to stay active. At a time when stress, anxiety and depression are elevated, physical activity remains a great way to cope and improve both physical and mental health. With outdoor activity bringing so many positive outcomes in relation to well-being, and with us living in such a beautiful part of the world, take advantage of the opportunity to be active in the great outdoors and reap the benefits that both exercise and nature bring us.