New for 2022-23
Advanced and Expert skiers and riders are invited to take your training to the next level at our XL Park! Get access to the XL halfpipe (22-foot tall, 120-foot long) as well as the XL Slopestyle course. These advanced and expert XL features are designed by a FIS course designer for the FIS World Cup happening at WinSport this season. Our advanced and expert guests and competitive clubs are invited to use these facilities during available hours of operation.
PLEASE NOTE – advanced and expert skills are required to safely enjoy the XL Parks.

XL Park Tickets & Passes
To access the XL Park, you will need to:
Purchase a Season Pass - visit Guest Services to add XL Park access as a day ticket or full season pass
A signed waiver must be completed for each XL Park user before accessing
XL Park hill tickets and passes are non-transferable.
TERM OF CONTRACT
IMPORTANT - WAIVERS REQUIRED
A Release of Liability, Waiver of Claims, Assumption of Risks and Indemnity Agreement ("Waiver") must be completed prior to the issuance of a WinSport Season Pass and each passholder and ticket holder's use of the pass and WinSport's facilities. If the Waiver is not completed, access to WinSport's facilities will not be permitted, and a refund will be provided.
Each adult passholder and ticketholder must complete their own waiver
A Parent/guardian must complete the Waiver for their minor/child passholder
Passes are non-transferable and can only be used by the named passholder
PLEASE READ THE WAIVER CAREFULLY! By signing, you will waive or give up certain legal rights, including the right to sue for negligence, breach of contract, or breach of the Occupiers' Liability Act or claim compensation following an accident.
Ski and Snowboard Waiver

PASS REMAINS PROPERTY OF WINSPORT
All Passes remain the property of WinSport. Passes are not transferable, they are not to be shared, given away or resold. Passes are REVOCABLE FOR MISCONDUCT OR BREACH OF THE ALPINE RESPONSIBILITY CODE.
NO GUARANTEE OF CONDITIONS
We do not guarantee snow, hill or trail conditions, weather or other operating conditions including open terrain or lift operation. The XL Park features rails, boxes and jibs that are non-snow features and may cause damage to equipment
Sign up to learn more about upcoming winter hill activities.
Winter Season Pass
Winter Hill tickets
Refund Policy
Safety and Risk Awareness


Click sign to enlarge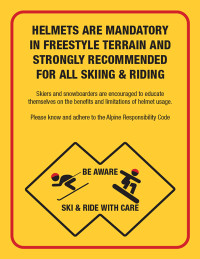 Hill Tickets with XL Park Access
| Hill Ticket + XL Park Day Access | 4 hour ticket + XL Day Pass | Full Day Ticket + XL Day Pass |
| --- | --- | --- |
| Youth | $64 | $74 |
| Adult | $89 | $99 |
Prices do not include GST
Already have a 2022/23 Winter Season Pass and want to add XL Park access?
Visit Guest Services in the Day Lodge to upgrade your Season Pass and receive XL Park access for:
Full season - $250
Single day - $30
FAQ
What skills are required to use the XL Parks?
The XL Parks contain extremely challenging terrain and conditions, and advanced or Expert skills are required.
Do I need a XL Park pass or hill ticket if I have a winter pass?
Yes. You will need to purchase an individual XL hill ticket or an XL pass to access. These features are not included with the purchase of a winter hill pass or hill ticket.
Please visit Guest Services to pick up your XL Park hill ticket or to add the XL Park pass to your 2022-23 Winter Season pass.
If you have completed the waiver as a passholder, you will not need to do so again for the additional XL Park hill ticket or pass.
Why is the XL Park Pass an additional charge?
The XL Slopestyle and XL Halfpipe courses are significant features and required significant investment. Each season WinSport subsidizes the cost to operate these features significantly.
Your purchase of an XL Park Pass supports our ability to build and maintain these world-class facilities. XL Park day tickets provide an option to the purchase of the pass.
Who is required to have an XL Park pass or ticket?
Anyone who will be using the features, including coaches and public members, will be required to have an XL Park pass or XL day ticket. This includes, clubs, NSO/PSO passholders, Canwest passholders, and event attendees who will be accessing the facilities.
Will there be a park marshall to check the XL Park Pass?
Yes. The XL Park Pass will be checked at a controlled entry point. Your pass must be presented in order to gain access.
An XL Park pass or day ticket is required to access. These tickets and passes require each guest to complete a waiver prior to access.
Is the XL Park Pass required during pre-event training and event competitions?
Yes, the XL Park pass or XL day ticket is required for pre-event training and during event competitions for both XL features. A day ticket is required for each day of the competition if the XL Park pass has not been purchased. A signed waiver is required for each pass or ticket.
Are helmets required in the XL Parks?
Yes helmets are required for all skiers and riders using the XL Parks. Helmets are also strongly recommended for all other ski and snowboard activities at Canada Olympic Park.
How difficult is the terrain at the XL Parks?
Freestyle terrain is designed with four levels of progression as noted in the sign below. The XL Parks contain the most difficult features including: the largest size features and jumps as well as jump-on rails with gaps and narrow surfaces. The XL Parks are recommended for advanced and expert skiers and riders only.