Outdoor Adventure Camps
This information is for the following outdoor adventure summer camps:
Knots and Knives
Wilderness Survival Skills
Archery
Outdoor Leadership
If you are looking for information for Wilderness Explorers or Nature Explorers camps, please click here. If you are unsure which camp you registered for, please contact our guest services team at 403-247-5452, ext 4.
Below are some details to make the most of your camp experience. Here's what you need to know before you go.
Before Your First Day
Step 1: Complete your waiver forms
Waivers Are Required to Participate
It is critical that you complete your waivers in advance of arrival.

Please use the same e-mail address you used to book your lessons to sign in to complete your waiver.

Outdoor Adventure Camps
Participation in WinSport's Outdoor Adventure Camps (the "Program") is subject to completion of WinSport's Release of Liability, Waiver of Claims, Assumption of Risks and Indemnity Agreements (the "Waivers") by the participant or their parent/legal guardian prior to the first day of the Program. PLEASE READ THESE WAIVERS CAREFULLY! By signing, you will waive or give up certain legal rights including the right to sue for negligence, breach of contract, or breach of the Occupiers' Liability Act or claim compensation following an accident. In the event the Waivers are not completed, participation in the Program shall not be permitted and a refund will be provided.
Step 2: Plan what to wear/bring
Ensure you are dressed for the expected weather each day. We will be spending as much time outdoors as possible and will only use indoor spaces if the weather presents a hazard to our staff and campers' safety.
Bring clothes that can get very dirty! Please be sure to bring:
A backpack that can be worn all day
Sunscreen
Hat
Sunglasses
Bug repellent
Rain jacket
Shorts and/or athletic pants
Socks
Closed-toed athletic shoes
Minimum two 1-litre water bottles
Pocket snacks, lunch
Participants should label their belongings.
When to Get Here
Please check back closer to your camp start date for arrival information.

Where to Park
Parking is free across from the Markin MacPhail Centre, next to the Canada Sports Hall of Fame.
Google Map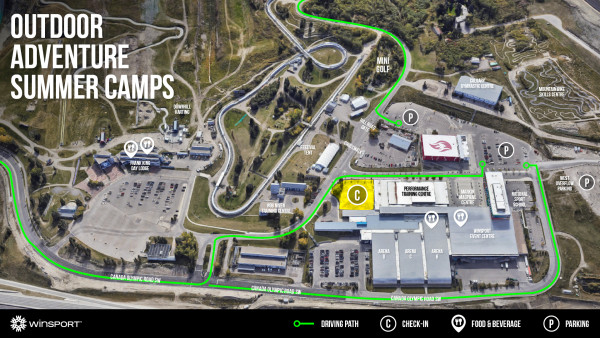 (Click to enlarge map)
Where to Go
Please check back closer to your camp start date for check-in information.

After Camp
Please check back closer to your camp start date for camper pick-up information.