We operate lift-assisted downhill bike trails. We feature technical trails and freeride trails.
Our trails are built with safety top of mind. However, injuries are still a reality in the sport of mountain biking. Before getting started, please familiarize yourself with the bike park. The information below is key to having a safe and enjoyable mountain biking experience.


Participation in any WinSport mountain bike camp, program, or lesson (the "Program") and use of a WinSport Season Pass, day ticket or rental equipment are all subject to completion of WinSport's Release of Liability, Waiver of Claims, Assumption of Risks and Indemnity Agreements (the "Waivers") by each participant/user or their parent/legal guardian prior to the first day of the Program or use of a season pass, ticket or rental. PLEASE READ THESE WAIVERS CAREFULLY! By signing, you will waive or give up certain legal rights including the right to sue for negligence, breach of contract, or breach of the Occupiers' Liability Act or claim compensation following an accident. In the event the Waivers are not completed, participation in the Program or use of the pass, ticket or rental will not be permitted, and a refund will be provided. The Waivers can be viewed and completed here: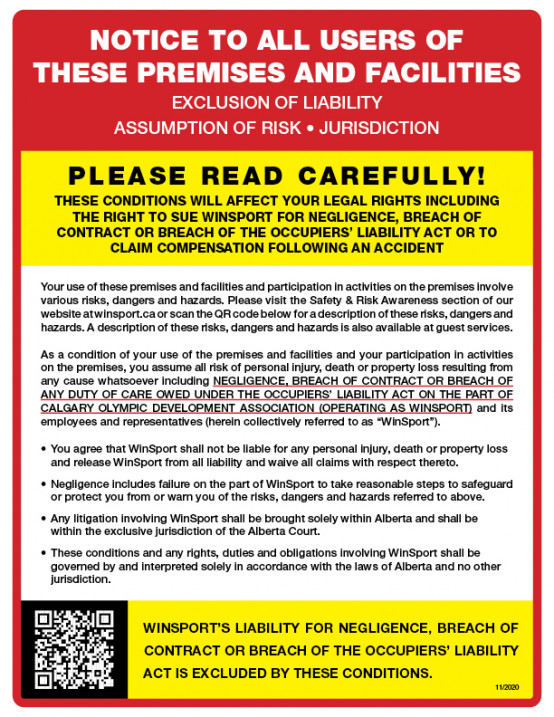 Important Information
Mountain Bike Park
Mountain Biking at WinSport
Mountain bike parks have a greater potential risk and require different skills than other styles of riding. You must come to the park with cycling experience. Our bike park is not for brand new cyclists. Always ride within your limits. Follow the Mountain Biker's Responsibility Code.

The only access road from the top of the lift to the trails is a 100 meter long gravel road. It is steeper than green trails and the difficulty level is blue due to the grade. If you are not comfortable descending this steep road, use the Needatowie up trail to access the trails.

All trails accessible by lift require bike skills, including:
Previous experience riding bikes
A good understanding and skills for using brakes, cornering and adjusting your body weight
Ensure your equipment is in excellent working order and be the right fit. Consider a bike rental to make the most of your experience
Injury is likely even for experienced riders. The more difficult the trail, the more you increase your chances of being severely injured. Serious injuries can also occur on the easiest trails
Waivers are required
If you are new to mountain biking, we recommend that you sign up for a lesson. Our instructors can teach you some skills while showing you around the bike park. Consider a WinSport mountain bike lesson or program to build your skills

Children six and under must be accompanied by an adult. Children 7-10 must be supervised by an accompanying adult. Parents must have their own bike and a valid ticket or pass to assist children who are not comfortable riding on their own

Loading a bike on the lift requires significant strength. Children need adult help to load. If unfamiliar with the bike loading process, please let our team know and they can give you a hand or you can use our "practice carrier".
We do not allow foot traffic on the hill including the Gromville trail area.
Riding up is only permitted on the uptrack and not elsewhere on the hill. The road is not maintained for, nor available for, riding up to access the trails.
Take the time to review our trail map and progression chart below to ensure you are familiar with the levels and trails offered.
Slow down! Read our safety signage and get informed. Ride Smart!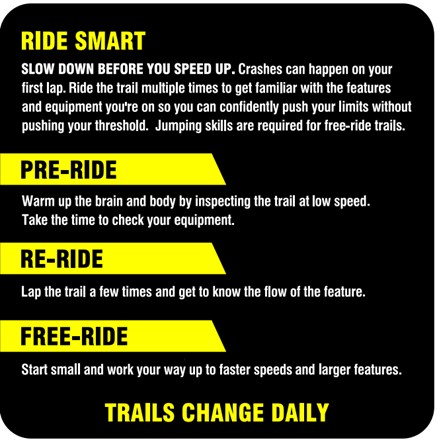 Safety and Risk Awareness
The level of risk increases with the level of trail difficulty. Accidents can still happen on easier trails. Inexperienced riders become a hazard to other riders if they are unable to ride a trail or move out of the way.
Helmets, Clothing and Bike Information
Helmets are always required at our park.
Clothing:
For our trails, we also recommend:
A full-face helmet and neck brace
Body armor protection; chest, elbow, knee
Gloves
Closed-toe shoes

Bikes
Mountain bikes must be in good working condition and equipped with working brake(s) and good tires. All riders should have a well-fitting bike that is appropriate for the terrain they are going to be riding.
Our carriers best accommodate bike tires between the sizes of 18"- 29". Smaller bikes, such as 14" and 16" bikes do fit securely in the carrier, but the rubber wheels are not large enough to prevent the front forks from contacting the metal trays. Loading anything smaller than 18" tires is at the guest's own risk of damage to their equipment.

Brakes
Bike Park: We require that all bikes have one functioning brake per wheel. Disc brakes are recommended. Cantilever brakes will increase the fatigue factor as more effort will be required to maintain control.


Suspension
We recommend full suspension bikes to navigate the terrain on the lift access trails. Ensure that your suspension is tuned properly and set up for your body weight and riding ability.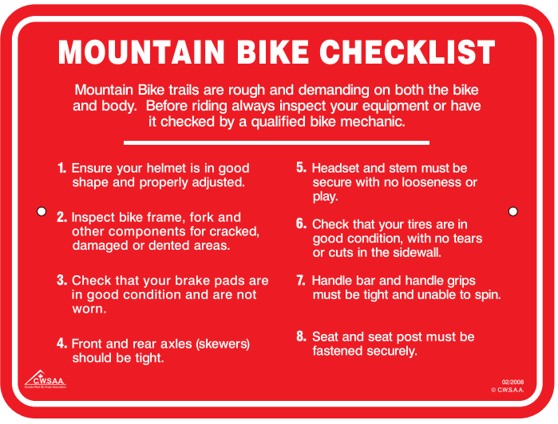 Read our blog to find out what kind of bike is best suited to our Mountain Bike lesson and programs.
Bike Types and Limitations:
Fat Bikes are not permitted on the chair as they do not fit. Fat bike riders are allowed to use the up track
BMX Bikes are not permitted on lift access trails.
Road/ Gravel/ CX Drop Bar bikes are not permitted
E-bikes are permitted on all trails and on the lift as long as they safely fit in the lift carrier. The rider must have the physical strength to load the bike onto the carrier. Please ensure you use our practice carrier at the entrance to the bike park if you have never used one before. E-bike riders should be conscious of their speed and respectful of other riders, especially when climbing.
Unicycles are not permitted
Riding up is only permitted on the uptrack and not elsewhere on the hill. The road is not maintained for, nor available for, riding up to access the trails.
Consider renting a mountain bike from our rental shop to make the most of your WinSport Mountain Bike experience.
Types of Trails
Freeride
A freeride trail contains machine-cut and man-made features like dirt jumps, boxes, gaps, marrow surfaces, wall rides and berms. You must have jump skills on these trails.

Technical
Technical trails embrace the rugged shape and terrain of the mountain. They contain obstacles and stunts such as rocks, roots, logs and drops. WinSport trail maps and the progression chart show level of difficulty by trail. The Mountain Bike Skills park provides options for all skill levels from new to experienced riders.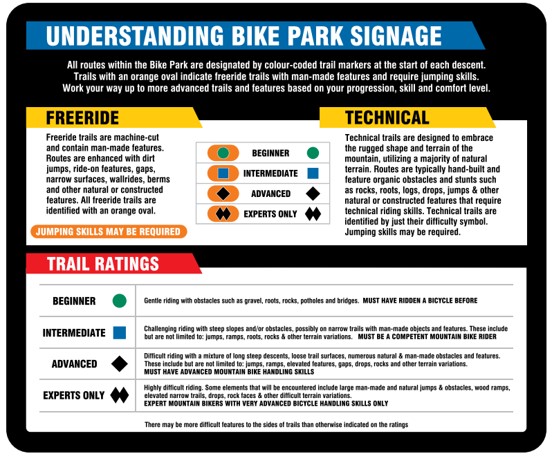 Rider's Responsibility
Although there are some guidelines on trail difficulty ratings, it is the rider's responsibility to ensure that they are riding within their limits. Trail ratings can vary from hill to hill and can vary at the same hill. We suggest riders become familiar with the trail progression to understand where a trail sits with regard to its difficulty level when compared to other trails.
Variables that change the difficulty level of a trail:
Amplitude - How big the features are on a trail (both long and tall) and how high off the ground a rider may be.
Speed - The "trail speed" that most bikers will ride at and the minimum speed riders are required to make it through a trail or feature.
Sightlines - How easy it is to see the trail or features ahead of a rider. Blind corners or jumps can significantly increase the difficulty of a trail.
Frequency - The number of features and how close they are together increases the difficulty of a trail.
Ride Smart
Trail Progression
We've created a chart to help you progress through the trails. Please complete these trails in order of difficulty. Build your skills before moving on to the next trail listed. Don't move to harder trails before you are ready.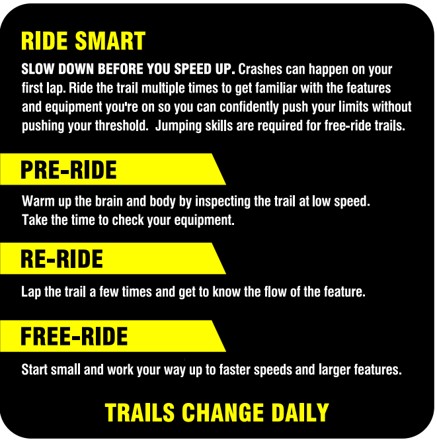 We suggest you progress through our park trails by area:
East Trees (east of hill road)
West Trees (west of hill road)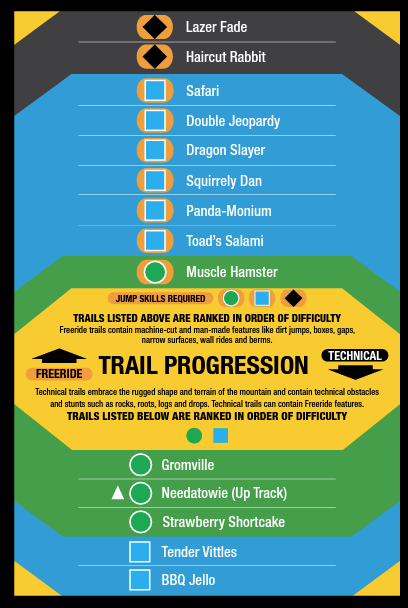 Guest Bike Security
WinSport is not responsible for the loss of personal equipment. The theft of bikes is on the rise; please lock your bike when not in use. Please bring a lock to use while at WinSport. Bikes left unlocked are left at the owner's risk.
Weather
Weather has a significant impact on our trails and can cause daily or temporary closures. These include:
Significant rain could cause closure of the trail system or individual trails at any time
Storm warnings which could cause closure of the lifts. Depending on the storm, the trails may remain open and users are encouraged to use the Needatowie up track
In the case or more severe weather, guests will be informed by announcements over the speaker system. Guests must move indoors when informed by WinSport Team Members. No riding is permitted
General
Access to lifts requires a summer season pass or day ticket (available later this summer). Lifts provide access to the downhill trail network.
Smoking and consuming drugs or alcohol in the Mountain Bike Park is prohibited.
Please connect with our team members if there is:
An injury or incident within the park
A missing child
A safety concern or hazard
A guest misbehaving on the hill