A Tribute to Joan Snyder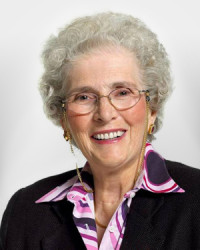 Calgary lost a proud and inspirational community leader and true sporting icon with the passing of Joan Snyder on April 7th. WinSport offers its deepest condolences to Joan's family and friends.
The Calgary philanthropist was known for her great curiosity and quick wit. Joan's late father, Calvin, instilled in her a sense of philanthropy. From sports, to music, to western heritage, hospice care, infectious disease research, animal conservation and more, Alberta is a richer place for Joan's generous contributions.
Named to the Order of Canada in 2013, Joan was a key contributor to WinSport's creation of one of the most unique sport environments in the world. At WinSport thousands of athletes of all levels and disciplines have a one-stop-shop to train and maintain an active lifestyle.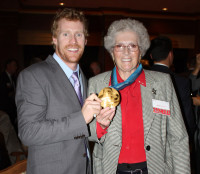 Joan was particularly passionate about women's hockey and worked tirelessly to expand the opportunities available for women in Canada's national winter sport. Thanks to her contribution to the Calgary Inferno of the Canadian Women's Hockey League, Joan was instrumental in funding the launch of the franchise for the 2011–12 season. The team played its home games at her namesake rink, the Joan Snyder Arena, at WinSport's Markin MacPhail Centre.
A huge fan of all Calgary sports, Joan was particularly an ardent fan of the University of Calgary Dinos, the Calgary Flames, and the Calgary Stampeders. She regularly made the pilgrimage to take in the Canadian Football League's Grey Cup games regardless of the location and the teams playing.
WinSport is honoured to have a woman of Joan's passion and character supporting our vision. She supported so many great causes and individuals to make our city and Canada a better place.